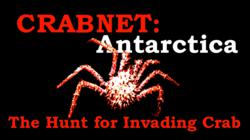 Hollywood, California (PRWEB) December 01, 2011
One year ago, engineer Frank Weyer was part of an international team of scientists on an ice breaker in Antarctica. The team used a robotic undersea camera sled to search for evidence more than a mile under the water that warming waters were allowing predatory king crab to move onto the Antarctic continental shelf, threatening the fragile ecosystem that features plants and animals that hold promise for cancer cures and other medicines. Weyer brought along video cameras with which he recorded the search operations.
On the anniversary of the research team's first confirmed king crab sighting, Storyteller Films is proud to release the documentary short "Crabnet Antarctica: The Hunt for Invading Crab" that documents the team's disturbing discovery. The film is immediately available for viewing at http://www.crabnet.tv and http://www.storytellerfilms.com. Storyteller Films will make the film freely available for use in schools and other educational and public forums, to help raise awareness of the dangers of climate change, and promote the search for ways to mitigate and prevent further harm.
###