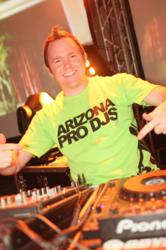 "I am honored to be one of the 30 entrepreneurs selected by EO to participate in their Phoenix accelerator. This experience is going to open new doors for Arizona Pro DJs.
(PRWEB) December 05, 2011
Will Curran, Founder and President of Arizona Pro DJs and junior at Arizona State University, has been invited to join the elite, prestigious Entrepreneurs Organization Accelerator. Curran is the first student from ASU to be enrolled in the program.
Entrepreneurs Organization (EO) is an organization founded by entrepreneurs, for entrepreneurs. EO is a global network of more than 8,000 business owners in 38 countries. The EO Accelerator is an intensive educational program with content focused on the four key issues that first stage entrepreneurs face: strategic planning, sales and marketing, human resources and finance.
"I am honored to be one of the 30 entrepreneurs selected by EO to participate in their Phoenix accelerator," said Curran. "This experience is going to open new doors for Arizona Pro DJs. I know the knowledge I will gain and the connections I will make in the Accelerator will be invaluable as our company continues to grow and expand into new mediums of entertainment."
To gain entry into the Accelerator, entrepreneurs have to be under the age 47 and their businesses must have between $250,000 and $1 million in revenues. There are several Accelerators in cities across the US, but each city's accelerator only allows 30 participants.
"Being in the accelerator and meeting their other members has been huge for me. The ability to get feedback and discuss ideas has given me the opportunity to take what they say and apply it, in real time, to my business. I love it!" said Curran.
Participating in the EO accelerator is not the only feather added to Curran's cap lately. Recently, he was featured in the Arizona Republic's 35 under 35; a list of the top 35 entrepreneurs under the age of 35 in the Phoenix Metro area. Curran was the youngest entrepreneur featured in this year's group. Arizona Pro DJs Facebook page was recently named in the top five Facebook pages for small businesses in the world.
Curran is currently in the ASU Edson student entrepreneur accelerator based in ASU SkySong, the Innovation Center in Scottsdale. The Edson accelerator provides funding, mentoring, and office space that enables students to advance their ventures.
Contact:
Meagan Garrett
Marketing and Communications Manager
ASU SkySong
Ph: 480 884 1814
Email: meagan.garrett(at)asu(dot)edu
About Arizona ProDJs (http://www.azprodjs.com)
Arizona's teen entertainment company specializing in school dances, sweet sixteens, mitzvahs and dance parties. Arizona Pro DJs is dedicated to creating unique, "one night only" dance clubs for teens by combining club and concert quality production elements with high energy entertainment.
About Edson Student Entrepreneur Initiative (http://studentventures.asu.edu/)
The Edson Student Entrepreneur Initiative provides funding, office space, and guidance to teams of students within all university disciplines. This accelerator gives student entrepreneurs the opportunity to develop their innovative ideas and launch viable businesses. As an integral program of ASU Venture Catalyst, students in the Edson Initiative have access to seasoned entrepreneurs, industry mentors, and other Catalyst programs that enable them to advance enterprise.
About Venture Catalyst at ASU (http://www.asuventurecatalyst.org)
ASU Venture Catalyst equips high potential startups for success. The Catalyst assists university students, faculty and staff, as well as local and global companies, launch startups or accelerate existing ventures. Based at ASU SkySong, The Catalyst offers investor connections, technology road maps, go-to-market strategy consulting, mentoring opportunities, and several other programs and services, all designed to identify and develop investment-grade companies.
###