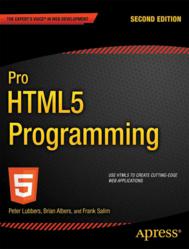 "With this major revision of HTML, web applications take on a power, ease, and responsiveness that simply did not exist before." - Peter Lubbers, Author and Director of Kaazing
New York, NY (PRWEB) December 01, 2011
HTML5 is the first major upgrade of the web, implemented just in time to meet the demands of an imminent surge in connectivity. According to industry leaders at the HTML5 Live conference in New York City last month, there will be 15 billion connected devices by 2015 and 50 billion by 2020. Now HTML5 communication technologies, such as WebSocket, are needed to service this staggering demand. Apress Media is responding to this need with a new publication for developers called "Pro HTML5 Programming."
This shift to HTML5 will enable developers to create exciting, next-generation web applications. Making use of HTML5's features means a more engaging and responsive web experience for users, and far less coding for programmers.
Peter Lubbers, co-author of "Pro HTML5 Programming" and Director of Documentation and Training at Kaazing, explains the latest about HTML5: "We're super excited about HTML5. If you want to build a universal web application, you cannot avoid HTML5 anymore. HTML5 is packed with great features and new APIs and this book was written for anyone looking to give their web apps an extra edge. With this major revision of HTML, web applications take on a power, ease, and responsiveness that simply did not exist before."
With "Pro HTML5 Programming," developers will learn how to use the latest cutting-edge HTML5 web technology to build web applications with unparalleled functionality, speed, and responsiveness. This book covers all the new HTML5 APIs and explains how to create real-time HTML5 applications that tap the full potential of modern browsers and provides practical, real-world examples of HTML5 features in action.
This essential guide delivers essential knowledge for every web developer and designer:

Explains how to create real-time HTML5 applications that tap the full potential of modern browsers
Provides practical, real-world examples of HTML5 features in action
Covers all the new HTML5 APIs to get you up-to-speed quickly with HTML5
Shows how to develop web applications using new HTML5 features like WebSockets, geolocation, web storage, Canvas, and audio/video
Fully updated to include the latest revisions of the WebSocket API, and much more.
Pro HTML5 Programming, Second Edition

By Peter Lubbers, Brian Albers, Frank Salim
ISBN13: 978-1-4302-3864-5
352 Pages
User Level: Intermediate to Advanced
Publication Date: November 30, 2011
Available eBook Formats: EPUB, MOBI, PDF
Print Book Price: $44.99
eBook Price: $31.49
About the Authors
Peter Lubbers is the director of documentation and training at Kaazing. An HTML5 and WebSockets enthusiast, Peter is a frequent speaker at international events and teaches HTML5 training courses worldwide. Prior to joining Kaazing, Peter worked for almost 10 years as an information architect at Oracle, where he wrote award-winning books and developed patent-pending software solutions.
Brian Albers is the vice president of research and development at Kaazing. His career in web development spans a decade and a half, including his most recent position as a senior development manager at Oracle. Brian is a regular speaker at conferences such as Web 2.0 Expo, AJAXWorld Expo, and JavaOne, where he focuses on Web and user interface technologies.
Frank Salim is one of the original engineers at Kaazing who helped craft the WebSockets gateway and client strategy. Frank is a San Diego native currently residing in Mountain View, California. He holds a degree in computer science from Pomona College.
About Apress Media
Apress Media LLC is a technical and business publisher devoted to meeting the needs of IT professionals, software developers, programmers, and business leaders with more than 1,000 books in print and electronic formats. Apress provides high-quality, no-fluff content that helps serious technology professionals build a comprehensive pathway to career success. For more information about Apress' innovative approach to publishing, please visit http://www.apress.com.
###