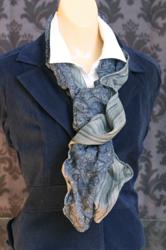 Colors such as deep purple, rich red and blue are universally flattering for every woman making them excellent choices for scarves.
Frederick, MD (PRWEB) December 01, 2011
Tyz Scarves offers a gift choice for women never offered before. The scarf is an important accessory in women's fashion and makes a great gift choice.The Tyz Scarves are wired making styling easier than ever. Most women like to adorn themselves with scarves to express their personal style.
Here are some tips if you are considering this gift for a special woman in your life:
1. If she has scarves in her closet, whether she wears them or not....this is a great gift for her. Many women really want to wear scarves, but they do not know how to style them.
2. Choose a safe color. Think about the colors she typically wears. If you do not know the answer to this, then go with something safe like blue, black or a neutral color. We have found blue is a favored scarf color choice for many of our customers.
"Some colors work for all skin tones and hair colors, because they fall into the middle of the color spectrum, meaning they're not too warm or too cool," says Leatrice Eiseman, author of The Color Answer Book (Capital Books, $20, amazon.com) and director of the Pantone Color Institute, the international authority on color. Here are three universally flattering colors for women that she suggests: 1. Deep purple 2. Rich red 3. Deep teal blue.
3. A Tyz Wired Scarf is a gift of total styling control. The inner wiring will enable her to style it with ease. Just a flip and squeeze and she is done.The scarf is totally reversible and will give her a myriad of new styling options.
You can easily shop online at http://www.TyzScarves.com. Scarves range in price from $37-47.00 and shipping is free.
Background:
Designer and inventor Ruth Bielobocky created Tyz Scarves in 2010. A dedicated scarf wearer, she became with scarves that don't stay put. So Bielobocky embedded wire into the seams of a scarf, combined fabrics for different looks in one scarf, and discovered a whole new way to accessorize with beauty and dependability. The company offers limited edition scarves in several fabric combinations and options. Key to manufacture is having the scarves sewn by a U.S. company. The Tyz© Boutique at tyzscarves.com is a woman-owned, U.S. business.
# # #