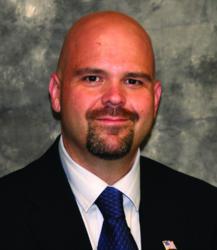 Bethlehem, PA (PRWEB) December 01, 2011
Data Based Systems International, Inc. (DBSi), announced today the appointment of Paul Mazzucco as its new chief technology officer to lead the company's strategic product development as it continues to expand its data center services. Mazzucco will oversee the technology direction of the company and be responsible for new product development, industry compliance, and the company's corporate security initiative for both internal and client facing networks.
Mazzucco brings over 10 years experience in developing, building, and managing complex technology based security solutions for multiple industries. His specific expertise in the management of FDA, GMP, GLP and computer, network, and data center security compliances supports the ongoing success of DBSi's growth initiatives, including its virtualization solutions. Mazzucco's proficiencies align with DBSi's vision of producing new technology offerings while remaining compliant with regulatory protocols across many industries including HIPPA, FDA - CFR 21 Part II, federal regulations, and financial industry dictates.
"DBSi is delighted to have Paul join our team," says Bob Hicks, Chief Operating Officer. "His experience with Fortune 500 corporations, government defense and security agencies, and all levels of healthcare greatly expands DBSi's ability to improve upon its service delivery within these vertical markets. He will work closely with all aspects of our business and play a key role in helping to expand our client base for each sector. Our goal is to leverage and continue to grow DBSi's competitive advantage and increase value for our clients."
As president of Coulbourn Instruments, the Behavioral Health and Laboratory Technology division of Harvard Bioscience (Nasdaq: HBIO), Mazzucco was responsible for the companywide management of local and state government computer security compliances. Prior to Harvard Bioscience, he designed and implemented on and off-site data service replication and disaster recovery in keeping with GMP, GLP, ISO 9001, FDA, and human resources compliances working for the GSA Division as Cobalt Computers.
Mazzucco completed his undergraduate work at Lehigh University, is a Microsoft Certified Systems Engineer, Certified Ethical Hacker, and Certified Information Systems Security Professional. He presently holds security clearance as a Cyber Consultant to the Pennsylvania Electronics Crime Task Force and the FBI Infragard initiative and for ethical hacking. Mazzucco will be based in DBSi's TekPark data center in Breinigsville, Pennsylvania near Allentown.
About DBSi
In business for over 30 years, DBSi is an innovative data center services company providing flexible, cost-effective, mission-critical technology solutions. Headquartered in Bethlehem, DBSi operates three secure, high density, highly available data centers in Bethlehem, Valley Forge, and Breinigsville, PA.
The company provides comprehensive data center services including Managed Hosting (Backups, WAN, Administration, Monitoring), Cloud computing, and traditional Colocation to hundreds of clients across numerous verticals including the healthcare and financial markets. DBSi also offers Disaster Recovery solutions ranging from tradition tape based recovery to advanced services such as virtualization, real time data replication, remote backup, email failover, and redundant data center configurations - all complimented by the region's largest Workspace Recovery offering.
For additional information about DBSi, visit the company website at http://www.dbsintl.com.
###