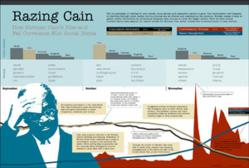 "Social media channels have given everyone access and a platform to have their voice heard on an international scale."
Durham, NC (PRWEB) December 01, 2011
Infographic from EvoApp.com
(Click here for the full version of the infographic)
The 2012 presidential race is heating up in dramatic fashion, and Herman Cain is a lead actor. The former businessman, radio host, and chairman of the Federal Reserve Bank of Kansas City has endured a rollercoaster rise and fall in his run for the White House, and it may be only the beginning. Using EvoApp MX software, analysts tracked, analyzed and compared social media conversations regarding Cain and his political campaign with Gallup Poll data to better understand the correlation between Gallup numbers – traditional metrics that measure a candidate's popularity – and social media. The results of their findings pictured in the infographic prove the increased value of mining social media data and how these two data sources together will help determine the next president of the United States of America in 2012 and the advantages of accessing and analyzing this information (speed, efficiency, detail) compared to traditional polling methods.
The baseline results align in a very extraordinary way – as Gallup's Name Recognition metric increases, so does the volume of social media conversation recorded by EvoApp. Additionally, Gallup's Positive Intensity metric and EvoApp's Cumulative Sentiment metric correlate very strongly. As one looks deeper at the data, some very interesting direct relationships become apparent. As new events occur, the public instantly reveals their sentiment in real-time via social media; this correlates strongly with polling data revealed days or weeks later.
Cain begins as a virtually unknown Republican candidate. Surpassing expectations in the Iowa Straw Poll in August, Cain continues to push his 9-9-9 tax plan and gains momentum in name recognition, sentiment, and volume through September and early October. Cain continues to rise to national prominence as he secures surprise victories in the Florida, TeaCon MidWest, and National Federation of Women Straw Polls, as you can see with the spike in conversation volume in early October.
Through the month of October, Cain does well in straw polls, debates, and speaking engagements. Social media conversations reflect positively on the conservative businessman earlier in the month, with cumulative social media sentiment peaking alongside (but ahead of) Gallup's positive intensity measure. There are frequent mentions of his tax plan and business-centric mindset. A Fox News poll late in the month shows Cain as the front-runner, with 24% of the votes and Mitt Romney coming in at second place with 20%.
However, Cain's ride as front-runner is short-lived. In early November, allegations surface of sexual misconduct and America's social web erupts, and formerly positive sentiment turns to general disapproval. Over 8000 mentions on November 8th alone, including terms like "sexual", "harassment", and "women", bombard blogs, forums, news sites, and other social networks. As the floodgates open, other women step forward and claim sexual harassment against Herman Cain. Overall conversation volume spikes and leads to increased name recognition in the Gallup and other national polls. Cumulative sentiment drops dramatically (and again, ahead of Gallup's numbers), leading Cain's positive intensity to plummet on a national scale. While Cain continues to deal with negative publicity and the associated fall in sentiment from his alleged sexual affairs, other Republican candidates like Romney and Gingrich have gained ground.
Understanding the correlation between real-time conversations in social media and traditional channels like polls and focus groups provides opportunities to analyze presidential elections like never before; in real-time. The goals are the same; the means by which one arrives at them are rapidly evolving and must be actively pursued. Faster and less expensive than traditional channels of communication, social media contains a wealth of real-time data waiting to be tapped. As we found out from Obama's 2008 strategy, social media is a game-changing channel of engagement for a candidate and effectively leveraging the potential of this channel goes a long way in determining election winners and losers.
Can Herman Cain recover his battered campaign and reclaim his former popularity? America will have to wait and see. The way people communicate and understand the world around us has fundamentally changed, especially in politics. Social media channels have given everyone access and a platform to have their voice heard on an international scale. As information is now available to people in massive quantities and in real-time, understanding how this information impacts the outcomes important to each person, whether a business or presidential campaign, is the key to success for everyone from CEOs to presidential candidates. Herman Cain is learning this the hard way.
About EvoApp
EvoApp makes finding the patterns in large and seemingly disparate sets of big data easy. We help you surface relevant conversations that impact your business.
Our real-time data mining and analysis platform gives big data meaning by correlating with metrics that drive your business. We've helped customers quadruple lead generation, dramatically improve customer service, find the language that makes them six times more relevant to their target audience, and accelerate product launches. We do traditional business, just in non-traditional ways.
Connecting big data with business metrics provides new and better ways to answer the questions critical to your success. EvoApp makes big data actionable with a scalable analysis platform previously only available to the largest institutions. We make big data approachable with solutions for every day users. More information about EvoApp is available at http://www.evoapp.com
For more information about EvoApp and EvoApp MX software, please call Sergei at 919-972-8471 or email sergei (at ) evoapp (dot) com
###