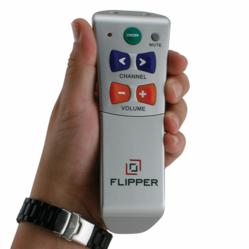 Flipper is great for the babysitter, kids and the technophobe in the family.
Los Angeles, CA (PRWEB) December 01, 2011
Flipper Remote, a company providing an innovative elderly TV remote control for seniors and others with low vision, dementia and other conditions, has launched its new website and is helping people find the perfect gift for the elderly loved ones in their lives.
The simple remote control, which features a functional design and large buttons, makes it easier for users to control their TV, cable and digital TV devices. It is universal and compatible with all major brands.
"This holiday season, give the senior citizen in your life the gift of ease and convenience with our highly functional, giant remote control," said Dan Pitkow, Founder of Flipper Remote. "With only six buttons, this remote allows people to operate their TV sets more easily and helps them stay connected to the world."
The Flipper big button remote control is extremely easy to setup and use, and comes preset to standard Motorola cable boxes. The on/off button on the senior remote control works the TV and top-box with its One Touch capabilities, and the channel buttons then work the top-box and the volume buttons control the volume on the TV set. There is also a proprietary Favorite Channel feature, which allows users to program up to 30 of their favorite channels for easy flipping, eliminating channel overload.
The average person over 65 years old watches about 200 hours of TV per month, which is the most of any age demographic. At a time where a majority of advertising is geared toward younger people, it seems like this very large segment of the population sometimes gets ignored.
"It's important not to underestimate the importance of television in care giving, as it often is the vital link for seniors to the outside world," said Pitkow. "With our large button remote control, we're making it easier for elderly people to watch and enjoy TV. This gives them peace of mind and can bring up positive memories, as well as allow them to stay informed with news and other current events."
In addition, the parental controls on the remote make it safe for kids. There is also locking setup that is designed to prevent channel reprogramming by accident.
The elder remote control from Flipper Remote uses two AAA batteries (not included) and comes in frustration-free clamshell packaging. It helps to foster independence, reducing care giver time. To learn more, visit http://www.flipperremote.com. For a limited time, get free shipping by entering the promo code FREESHIP9.
__title__ Large Button Remote]
###