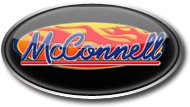 Santa Rosa, California (PRWEB) December 02, 2011
McConnell Chevrolet, Chrysler, Jeep, and Dodge is a premier Fiat and Chrysler dealership in Santa Rosa, California. Chrysler has been working to get itself out of bankruptcy, and the automaker is back with a vengeance. Originally labeled "financially unviable," Chrysler teamed-up with Fiat to get back on track.
According to an article on InvestorPlace, approximately two years ago, the U.S. government spent $12.5 billion to bail out the automaker, forced it to file for bankruptcy and had it pair-up with Fiat SpA. Sales are rising, driven by increased growth in the Chrysler, Jeep, Dodge and Ram brands, and Fiat is investing $1.7 billion for its next-generation Jeep SUV. Chrysler is becoming more competitive in the U.S. market, having grown 28% year-over-year. The Jeep brand stood out the most with sales through October exceeding 44% since last year. The automaker's most popular models this year include the Jeep Compass, Grand Cherokee, and Patriot. Dodge pickup and SUV sales are also on the rise. Chrysler sold about 43,000 Dodge Durango 4X4 SUVs, 42,817 more vehicles than last year.
InvestorPlace also stated, "Fiat's product vision and a strong marketing hand have been a critical component of Chrysler's resurgence." Fresh advertising and a new attitude also have Chrysler turning heads. An ad for Chrysler's 300 sedan features a poem by Michigan's Poet Laureate Edgar Guest, which encompasses the automaker's perseverance. "When you're up against a trouble, meet it squarely, face to face," Guest writes. "When it's vain to try to dodge it, do the best that you can do. You may fail, but you may conquer—See It Through!"
McConnell is proud to be a part of the Chrysler family's success and anticipates a continued improvement for the automaker. For a variety of new and used Chrysler vehicles in Santa Rosa, California, visit the dealership's full inventory online or on-site today.
###