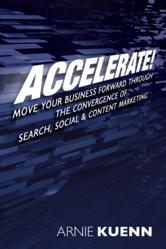 "it is imperative to understand and embrace content marketing to be successful. Accelerate! provides you with a simple to follow roadmap so you can reach your goal" - Roy Reyer
Phoenix, Arizona (PRWEB) December 02, 2011
Roy Reyer, certified advanced SEO instructor with the Search Engine Academy will host a free 1-hour online webinar with Arnie Kuenn, the author of the best selling book "Accelerate! Move your Business Forward Through the Convergence of Search, Social, and Content Marketing."
"Online businesses that are winning today are those who create content that engages their audience and brings in business," said Kuenn.
Acccelerate! Content Marketing Webinar will be held December 7th, 2011 at 7:00 pm Mountain time and as seating is limited, you will need to register online by clicking here.
Accelerate! Move Your Business Forward through the Convergence of Search, Social and Content Marketing covers the eight steps to content marketing from developing a strategy to measuring results using sixteen case studies from both small and large businesses.
Roy Reyer, has used many of Arnie's techniques on his own websites including RadarDetector.org, a website that reviews various speed counter measurement devices including radar detectors and jammers.
"We are all competing for that prime organic listing and with Google's Panda algorithm, it is imperative to understand and embrace content marketing to be successful. Accelerate! provides you with a simple to follow roadmap so you can reach your goal" says "Radar" Roy Reyer, your host during this live event.
About the Search Engine Academy
The Search Engine Academy was founded in 2002, and teaches hands-on search engine optimization and Internet marketing workshops throughout the world, including classes throughout the USA, Canada, Asia and Australia.
###