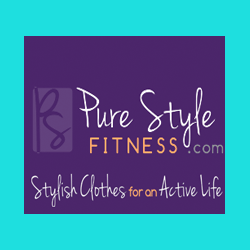 Pure Style Fitness looks to offer only apparel that meets a certain level of style and sophistication as well as functionality.
Chicago, IL (PRWEB) December 02, 2011
Pure Style Fitness has everything to outfit the athlete this holiday season with fitness apparel and causal athletic wear.
Why is having the proper fitness apparel so important? One, fitness apparel is made with fabrics and materials that stretch, breathe, support and move with the body as you work out. It's important not to wear clothes that constrain body movement or don't provide the proper breathability while working out. Fabrics that do not breathe trap sweat, causing exercisers to over-heat and tire quicker. Wearing a product like the Serve it Up V-neck T-Shirt that has mesh on both the shoulders and back or the Lotus Tank with a mesh inset along the neckline provide ventilation and breathability. In addition to mesh, spandex is used in fitness apparel because it stretches easily and helps keep the shape of the clothing piece. Looking for one or both of these fabrics, when shopping for fitness apparel, will ensure the end user maximum comfort and functionality.
Secondly, when exercisers feel good about themselves, working out becomes easier and self-motivating. Having stylish and supportive fitness apparel brings self-assurance and can make a person more confident about hitting gym. For women, having the proper chest support is a big issue. When women don't feel secure in their workout tops, they may be embarrassed about working out in a public gym. More than half of Pure Style Fitness' tanks have built-in bras. Wearing a fitness top with a built-in bra eliminates the need to layer a tank with a sports bra. Having the bra built-in provides extra comfort along with support. Many of the Alo Sport tanks, including the Twist Strap Tank, have interior shelf bras. It's important to keep in mind what type of comfort, support and style the person you are shopping for would need.
Pure Style Fitness makes it easy for shoppers to buy for the athletes they love this season with a wide selection of items made with special design features and quality fabrics. Given the holiday spirit, Pure Style Fitness is also offering free standard shipping and a limited time promotional code of "Holidays 2011" that can be used at checkout to receive an additional 10% off consumer purchases.
Make the holidays bright this year with stylish and affordable fitness apparel!
About Us: Pure Style Fitness was started to provide stylish clothes for active people. It offers gym-goers a wardrobe selection that they can wear at the gym, to and from the gym, or for everyday activities. The versatility of the product lines are what set Pure Style apart from other athletic apparel companies. Along with the typical fitness and yoga apparel, Pure Style Fitness also has a line for men and for pregnant women. Reaching across markets keeps Pure Style Fitness a step ahead of its competitors.
###