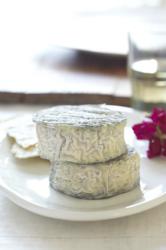 "To think that our Bonne Bouche and Cremont both won gold medals in this international arena is humbling,"
Websterville, VT (PRWEB) December 01, 2011
Vermont Butter & Cheese Creamery (VBCC) announced today that they took home 5 awards, including 3 gold medals, at the World Cheese Awards annual cheese competition in Birmingham, UK. The World Cheese Awards is the world's largest international cheese competition and considered one of the most prestigious in the cheese industry. There were over 200 international judges that tasted more than 2,500 cheeses from 30 countries. "This is a very exciting win for us. To think that our Bonne Bouche and Cremont both won gold medals in this international arena is humbling," said company co-founder Allison Hooper.
Three of VBCC's five awards went to the creamery's line of aged, geotrichum rinded cheeses. Inspired by European cheesemaking traditions, VBCC's Bonne Bouche, Cremont, Coupole have been winning awards since their introduction to the U.S. market in 2006. These cheeses are distinguished by their unique rind with a wrinkled, coral-like appearance and delicate texture. "Geo cheeses are catching on in a big way here in the U.S." said Bob Reese, co-founder of VBCC. "We have worked hard to try and master this style of cheese."
Below is the complete list of Vermont Butter & Cheese Creamery's 2011 World Cheese Awards:
Bonne Bouche, Gold – Soft goats' milk cheese plain, mold ripened
Cremont, Gold – Blended milk cheese
Mascarpone, Gold – Mascarpone
Coupole, Silver - Soft goats' milk cheese plain, mold ripened
Creamy Goat Cheese, Roasted Red Pepper, Bronze – Goat milk cheese with additives
In their twenty-seventh year of business, Vermont Butter and Cheese Creamery is a leading American creamery crafting innovative, all-natural fresh and aged goat cheeses, crème fraiche, mascarpone, and European-style cultured butter. The creamery supports a network of 17 goat dairy farms, providing milk that meets the highest standards of purity, and is a proud contributor to the health of local agriculture.
###