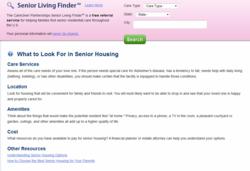 It's important to assess how much care a senior needs ...
Neenah, Wis. (PRWEB) December 01, 2011
For five years, The CareGiver Partnership has provided products and information to help seniors age in place, remaining in their homes safely and independently. If it becomes necessary to explore other senior living options, a new tool called the Senior Living Finder(SM) helps the elderly and their families find housing options that meet their personal needs.
"When considering senior housing, it's important to assess how much care a senior needs, housing location and monthly costs," says Lynn Wilson, Co-Founder of The CareGiver Partnership. "It's also helpful to think about which amenities will make your loved one feel 'at home.' Is there enough privacy, phone access, televisions in every room? Can your loved one enjoy the outdoors or go on outings?"
To use the Senior Living Finder(SM) tool, a user simply types in a city, state and type of care. Here are care options to choose from, with explanations of services provided.

Independent living: Housing units that may include basic services such as meals and housekeeping.
Congregate living: Group living environment that integrates shelter and services for seniors who do not need institutional supervision or intensive health care.
Assisted living: Combines housing and supportive services, such as health care coordination and monitoring of daily living and activities.
Continuing care: Community providing various levels of eldercare, from independent living to nursing care.
Nursing care: Facility for residents who may need 24-hour observation and care by a professional staff.
Alzheimer's care: Residence skilled in caring for those with all stages of dementia and cognitive problems.
Rehabilitation care: Facility where staff helps enhance and restore functional ability and quality of life following an accident or injury.
Visit The CareGiver Partnership's Senior Living Finder(SM) page for a list of what to look for in senior housing and to start your free, no-obligation search.
The CareGiver Partnership is a national direct-to-consumer retailer of home healthcare products for incontinence, diabetes, nutrition support and more. In its fifth year of providing products and services that help caregivers and loved ones maintain personal dignity, the company also offers an online library of more than 1,100 family caregiver resources and personal service by experts in caregiving. Call 1-800-985-1353 or visit online at http://www.caregiverpartnership.com.
###