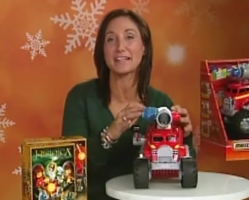 Fairfax, VA (PRWEB) December 01, 2011
Fall is in full swing and the holiday season is already around the corner. As holiday lists begin to grow, and with many people spending the remainder of the year planning, shopping and celebrating, Elizabeth Werner is on hand and spoke with NewsWatch to share the latest toy industry trends.
This holiday season, here are the hot toys that kids will be excited to play with:
DaGeDar Supercharged Ball Bearing Toy Track Set
DaGeDar™ are super charged and ready to race. Goblins, bandits, bounty hunters, fighters, and fire-starters, there's a set for everyone. Send two balls hurtling down a near-vertical drop and into a high-speed loop. Launch over the gap and knock away opponents on the way to the finish gate. Powered through their emotional charge, DaGeDar break the veil from Dimension 33, which captures the DaGeDar spirits into a supercharged ball form.
Cabbage Patch Kids
Cabbage Patch Kids are back. Each 14" Kids is in a detailed fashion that has been updated for today's kids while the face and adorable sewn bodies still resemble the original Cabbage Patch Kids from yesterday. Each Kid comes in one of 12 fashionalities. Each with their own facial look and expression, fashion personality "fashionality", bio card, birth certificate including name and adoption papers. Comes with a download code to access a 22 minute Cabbage Patch Kid cartoon.
Hexbug Nano Habitat Set
Hexbug Nano Habitat Set is a reconfigurable set that lets users create a variety of Nano homes. Go buggy with Hexbug Nano--the micro-robotic creature that acts like a real bug! Habitat Set includes 2 extremely rare Nanos and everything needed to make them a happy home.
LEGO Heroica Board Games
Build the wooded scene with LEGO bricks, setting the stage for children's heroes. Roll the buildable LEGO die to travel the course, battle monsters, seek treasure, and complete the mission. Play Waldurk Forest on its own or combine it with other HEROICA game locales for an epic experience.
Matchbox Smokey The Fire Truck
Get ready for hours of imaginative fun with Smokey the Fire Truck from Matchbox. With his ability to speak, sing, dance, and launch "water" balls, Smokey is a playmate that really interacts with childred during play. Whether putting out a fire together or learning a new song-and-dance routine, Smokey and childred will form a fun friendship and be ready for anything together.
Elizabeth Werner is a renowned toy industry expert. She has written numerous articles covering the industry, some of which have appeared in ivillage, MSNBC.com and Todaymoms.com. Werner also regularly appears on dozens of broadcast outlets to discuss the latest industry trends (including The View). She was recognized by the Women in Toy Association as the "woman to watch in the toy industry."
NewsWatch is a weekly 30-minute consumer oriented television show that airs nationwide. NewsWatch regularly feature top celebrities, health tips, technology products, medical breakthroughs and entertainment news on the show. The show airs in 180 markets nationwide as well as all of the top 20 broadcast markets in the country, and is the preferred choice for Satellite Media Tour and Video News Release Distribution. For more information, head to newswatchtv.com
###