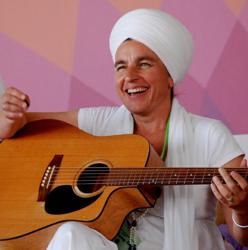 Every element of the universe is in a constant state of vibration manifested to us as light, sound and energy. Yogi Bhajan
Clearwater, FL (PRWEB) December 01, 2011
Naad is the essence of all sound. In yogic philosophy, it is believed that chanting on a regular basis can change the chemistry in the brain and subsequently the thoughts in the mind.
Dev Suroop Kaur, known internationally for her beautiful musical renditions of familiar Kundalini mantras, will share some of her favorite chants while leading "Naad Yoga: Expand with Sound and Mantra" at Yoga Village of Clearwater on Friday, December 9th, from 6pm to 8pm.
In Kundalini Yoga, mantras are chanted to help create new, positive grooves in the brain which in turn create new, positive ways of thinking. "Man" means mind, and "trang" means projection or wave, so a mantra is a projection that can change us from the inside out. They are formulas that alter the patterns of the mind and can help us to view and respond to life in new ways.
Chanting is not about having a good voice or being the loudest in the room. It is about connecting with the inner self and allowing the body to open up for the sound to flow through. After an evening with Dev Suroop, you will definitely naad your head because you will love to chant!
Yoga Village, the premier Kundalini yoga studio on Florida's west coast, offers hundreds of classes every month at its main location in Clearwater and its affiliate studios in St. Petersburg. Classes include Kundalini, Hatha, Hot, Amrit, Prenatal, Children's, and Restorative. Every weekend, Yoga Village hosts local, national and/or international presenters for workshops and concerts that are open to the community. Yoga Village is a place for spirit to grow.
# # #