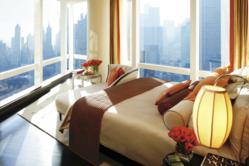 New York, New York (PRWEB) December 01, 2011
Forbes Travel Guide, formerly Mobil Travel Guide, unveiled its 54th annual listing of Five-Star and Four-Star hospitality establishments worldwide, and named Mandarin Oriental, New York as part of its list. This luxury hotel located at Columbus Circle on Manhattan's fashionable west side, is showcased with all the 2012 award winners on Startle.com, the new interactive website of Forbes Travel Guide. The site features exclusive offers, or "Star Experiences", thousands of unique photos and videos on award-winning properties and destinations, social activity and access to some of the world's leading luxury hospitality brands and tastemakers, and original expert answers to the questions of travel from Forbes Travel Guide inspectors. With its expert content, social connections, curated lists, and exclusive offers and experiences, Startle.com delivers a one-of-a-kind destination online for the most discerning travelers.
"Our annual ratings represent the best of the best in hotels, restaurants and spas. They serve as guideposts for consumers who are looking for exceptional travel experiences," said Shane O'Flaherty, President, Inspections & Ratings, Forbes Travel Guide. "This year, we are thrilled to be able to provide rich new content for each of our Five-Star and Four-Star honorees on our just-launched travel planning platform, Startle. It's a whole new way to explore which of these select properties is right for you."
About Mandarin Oriental, New York
A stunning fusion of modern design with stylish Oriental flair, Mandarin Oriental, New York features 248 elegant guestrooms and suites — all with breathtaking views of Manhattan and Five-Star hospitality. Luxurious amenities include Asiate, the hotel's elegant restaurant; MObar created by noted interior designer, Tony Chi; the Lobby Lounge with dramatic views of Central Park; a 14,500-square-foot, Five-Star Mandarin Oriental Spa; and a state-of-the-art fitness center with a 75-foot lap pool. In addition, there is premium meeting and event space, including a 6,000-square-foot pillar-less ballroom with three walls of windows overlooking Central Park. Located in Columbus Circle's Time Warner Center, Mandarin Oriental, New York is in an idyllic location just steps away from world-class dining, shopping and entertainment, including the Broadway Theater District, Lincoln Center, Central Park, Jazz at Lincoln Center and the Time Warner Center's collection of upscale retail shops and restaurants.
About Forbes Travel Guide
Forbes Travel Guide, originator of the prestigious Mobil Travel Guide Star ratings and certifications, has provided the most comprehensive ratings and reviews of hotels, restaurants and spas since 1958. In October 2009, Mobil Travel Guide announced a strategic partnership with Forbes Media LLC. This exclusive licensing agreement between two industry leaders with more than 140 years of combined experience transfers the hospitality industry's premier star rating and travel guide brand from ExxonMobil to Forbes. Forbes Travel Guide has a team of expert inspectors who anonymously evaluate properties against rigorous and objective proprietary standards, providing consumers the insight to make better-informed travel and leisure decisions.
About Forbes Media LLC
Forbes Media encompasses Forbes and Forbes.com, the #1 business site on the Web that reaches on average more than 17 million people monthly. The company publishes Forbes and Forbes Asia, which together reach a worldwide audience of more than 6 million readers. It also publishes ForbesLife magazine, in addition to licensee editions in China, Croatia, India, Indonesia, Israel, Korea, Poland, Romania, Russia and Turkey.
Other Forbes Media Web sites are: Investopedia.com; RealClearPolitics.com; RealClearMarkets.com; RealClearSports.com; and the Forbes.com Business and Finance Blog Network. Together with Forbes.com, these sites reach on average nearly 40 million business decision makers each month.
###