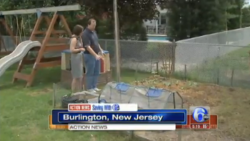 Today, now in it's second year of existence, the seeds club boasts customers in all 50 states as well as from over 15 countries around the world
Burlington, NJ (PRWEB) December 01, 2011
Mike Podlesny, owner of Burlington, NJ based Mike the Gardener Enterprises, buys seeds in bulk from various farms throughout the country and then passes the savings onto home vegetable gardeners through his Seeds of the Month Club (averagepersongardening.com/seedsclub).
With an increase in the number of people looking to save money by growing their own food, Mike has created a business that saves home vegetable gardening DIY'ers money on the seeds they buy.
"The idea hit me a couple of years ago when my wife and I signed up for a movie club and I thought doing something similar for vegetable seeds would be great," says Podlesny. "Being a 30+ year home vegetable gardener myself, I know it is something I would enjoy being a member of."
Subscribers to the club can expect to pay less than a few dollars per month and will receive eight packs of seeds their first month and four packs every month thereafter.
Today, now in it's second year of existence, the seeds club boasts customers in all 50 states as well as from over 15 countries around the world.
"The club has grown larger then even I imagined. It's great to see so many people that want to give growing their own food a try," says Podlesny. "The past couple of years have been very exciting and fulfilling."
As the seeds club popularity has grown, so has its exposure. Podlesny's seeds club has been featured on NBC, ABC and Fox, something Podlesny says was unthinkable when he first started. "In my mind I was simply selling seeds, helping people save money, I never thought that would translate into a top news story, but people, today more than ever, are looking for ways to save money."
Beyond the news stories and his recent finish as a semi-finalist in an American Express business contest where the seeds club was chosen among over 10,000 entries, Podlesny says his ultimate goal is to help at least 100,000 people save money on the seeds they use through the Seeds of the Month Club.
###