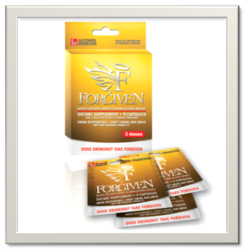 Once people try it, they realize it's a game-changer
Atlanta, Georgia (PRWEB) December 02, 2011
Forgiven, manufactured by Forgiven Bottling Group and distributed exclusively by RH Laboratories, is rolling out to all GNC stores nationwide. The product is slated to be available for sale by mid-December.
Designed to be taken after drinking, Forgiven reduces alcohol's affect on the body. It is a proprietary blend of all-natural ingredients that makes the body process alcohol faster. It also restores the body's supplies of key nutrients that are often depleted by drinking.
In the initial clinical trial, subjects who took Forgiven metabolized alcohol significantly faster. The subjects also noticed a dramatic reduction or complete absence of debilitating hangover symptoms such as headache and fatigue.
"We have high expectations for Forgiven," says RH Labs President Joshua Maurice, "once people try it, they realize it's a game-changer. There's a huge demand for a product that reduces the harmful effects of drinking, and we are confident that we can meet that demand."
Forgiven, which is sold in packs of three, will be available at the register. It's currently the only product of its type available at GNC.
About Forgiven Bottling Group
Chas Aday and TJ Lavin formed Forgiven Bottling Group in 2009. Their product, Forgiven, is the first and only product on the market that has been shown to increase the rate at which the body processes alcohol. In the initial clinical trial, the average increase in metabolic rate was over 500 percent. The product's proprietary blend of all-natural ingredients includes organic acids, amino acids, vitamins, and herbs that increase the body's metabolic rate while restoring the necessary amounts of essential vitamins and nutrients.
About RH Labs
RH Laboratories manufactures RockHard Weekend, an all-natural male sexual performance enhancer as well as Pandora, an all-natural sexual enhancer for women. RH Laboratories is constantly using innovative techniques to promote their products not only as supplements but also as a lifestyle. In addition to the products RH Labs manufactures, they are the exclusive distributor of Forgiven, the world's first alcohol metabolizer.
###