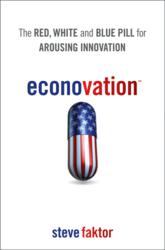 As Steve explains, "think of Econovation as a trends book on steroids. It's bursting with practical, thought-provoking ideas no executive, entrepreneur, or Fed chairman can afford to miss."
Hoboken, NJ (PRWEB) December 05, 2011
Everyone is talking about the economy, but feels helpless to do anything about it. From executives to street vendors, no one feels secure in their future. There is no shortage of talk. There is a shortage of answers. Well, here they are. Econovation challenges business leaders and 99%ers alike, to think differently about the U.S. economy and respond with big, sustainable innovations. Written by Fortune 100 innovator and futurist Steve Faktor, Econovation: The Red, White, and Blue Pill For Arousing Innovation (John Wiley & Sons; $34.95, December 2011), is not for the faint of heart. As Steve explains, "think of Econovation as a trends book on steroids. It's bursting with practical, thought-provoking ideas no executive, entrepreneur, or Fed chairman can afford to miss."
Econovation uncovers opportunities in unexpected places – in a future where a massive shift from labor to capital is quickly making most jobs unnecessary. In this book you'll learn how to:
•Capitalize on a market that will go from making nothing to making everything . . . for China
•Use psychological pricing and some crafty tricks from Google to reduce reliance on tapped-out consumers
•Sell to consumers whose new identities will be based on what they create, not what they buy, click or super-size
•Seduce a desperate government to finance your business, then feed you pancakes in the morning
•Motivate tomorrow's employees with social currency instead of the green, depreciating kind
•Upgrade your business and your kids with a little help from Mormons and kindergartners with hacksaws
Econovation is a fresh perspective on a future we've taken for granted. It empowers readers to think big, dream big, and conquer economic conditions that will paralyze others. With hefty doses of data, humor, and actionable ideas, Econovation offers insight and amusement in one convenient place—a rare treat for a business book.
About The Author:
Steve Faktor (New York NY) is the former Vice President of Growth and Innovation and Head of the Chairman's Innovation Fund at American Express. There, he developed and incubated numerous growth ventures including Zync, Loyalty Edge, and Private Sales, a joint venture with Vente Privée. Steve is the founder of Blue Beacon Partners, LLC, which helps start-ups and corporations innovate new products and services, think big, and build a sustainable growth pipeline. In his career, Steve has created several $100-million-plus businesses, generated billions in sales volume, and deployed three enterprise-level innovation programs. Previously, Steve was a senior innovation and strategy executive at Citi and MasterCard. As a management consultant at Arthur Andersen, Steve led strategy, marketing, and technology projects for clients like WPP (Ogilvy), Samsung, JVC, Bombardier, Boise Cascade, Omnicom Group, and PSEG. As a futurist, innovator, and digital payments expert, Steve is a popular global keynote speaker on future growth opportunities. Steve also leads innovation workshops, ideation, and training sessions based on his proprietary 4C's of InnovationTM methodology. An author with a satirical touch, his latest musings on trends in business can be read at http://www.ideafaktory.com
Econovation
The Red, White and Blue Pill for Arousing Innovation
Published by John Wiley & Sons, Inc.
Publication date: December 5, 2011
$34.95; Hardcover; 224 pages; ISBN: 978-1-118-05400-0
###