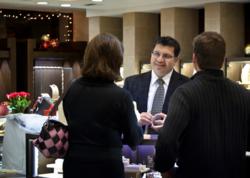 The new design center will help us create an incredible experience for customers
Bellevue, WA (PRWEB) December 06, 2011
Joseph Jewelry, custom jewelry and engagement ring designers, have announced the opening of a new design center in the heart of Bellevue, Washington. Continued growth in Seattle area sales and an expanding nationwide clientele have created a need for larger premises that facilitate their unique collaborative and professional design experience.
Joseph and Danny Boukhalil are best known for custom design of engagement rings and wedding bands, but also carry jewelry collections from designers such as Kirk Kara, Vanna K and Galatea. Over the years they have gathered an impressive team of dedicated master craftsman and now serve customers in Washington and twenty other states.
At the grand opening of the new store this Thanksgiving, Joseph Jewelry celebrated eighteen years of business in Main Street, Bellevue. "Our success has come from a growing base of happy customers who continue to refer us to friends and family," Joseph Boukhalil said. "The new design center will help us create an incredible experience for customers. We have also invested in the latest technologies, which help our jewelry designers and artisans deliver the highest quality work as quickly as possible to customers."
The team at Joseph Jewelry has collectively over 165 years of experience in the jewelry trade, with master artisans who craft incredible designs. Combining old-school craftsmanship with new-world sophistication, they use industry-leading technology to facilitate a unique design process. This includes Computer Aided Design and Manufacturing (CAD/CAM) of wax models and metalwork as well as special Web based software for facilitating customer interactions online. This allows customers to exchange ideas and review designs from the comfort of home.
"Computer technology has made a huge difference to our ability to serve customers in each stage of the design process," Danny Boukhalil said. "We can turn that rough sketch you did on a paper napkin into stunning 3D images and precise wax molds which we can share either in person or online, so we make sure you get exactly what you're looking for."
Joseph Jewelry has been consistently recognized by customers and business peers for their outstanding quality and professionalism, with awards including Jeweler of the Year from Consumer Business Review (2006-2009), Talk Of The Town (2010-2011) and KING5 Best in Western Washington (Top 5 in 2011). They also currently enjoy stellar customer ratings on City Search, Google and Yelp.
For those hunting for that perfect engagement ring, or needing help with custom jewelry design, call Joseph, Danny or Ryan at (425) 453-8258. The Joseph Jewelry design center is at 10129 Main St, Suite 107 in Bellevue, WA and online at http://www.josephjewelry.com.
###