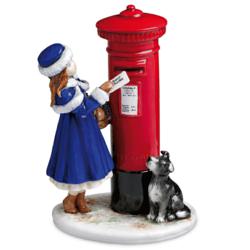 Bringing old-fashioned Christmas charm on the high-speed Internet.
(PRWEB) December 01, 2011
No e-mails for Santa, not even in 2011: only an old-fashioned hand-written letter will do, believe the holiday experts at the UK's leading retailer of prestige collectibles.
Compton & Woodhouse, the 25-year-old company that brought its on-line shopping site to North America this year, is offering "Dear Santa", the 2011 Christmas Heirloom figurine from Royal Staffordshire. Traditional Christmas charm that can be bought via high-speed Internet, the little (7.8-inch) figurine immortalizes yesteryear's young English girl as she posts her gift wish-list to the North Pole.
"Dear Santa" is precisely detailed in bone china, right down to the buttons on the girl's boots and the authentic English postbox into which she slips her letter under the watchful eyes of her small dog.
Available at http://www.comptonandwoodhouse.com/ 877-496-9859 for $199, "Dear Santa" should be ordered by Dec. 9 for Christmas 2011 delivery.
Specialists in British collectibles – including Royal memorabilia and jewelry, Christmas ornaments based on "Alice in Wonderland," and traditional teddy bears -- Compton & Woodhouse also offers The Royal Bride Series of Royal Staffordshire figurines.
The newest royal Bride, The Duchess of Cambridge (the former Kate Middleton), joined the royal ranks after her wedding this year to the future King William. The 9-inch Duchess figurine was created in bone china by the renowned English sculptor Carolyn Morton and is being hand-produced at the Potteries in an edition limited to 4950, currently at the special price of $275.
On offer on-line for the first time in North America, Compton & Woodhouse presents two hand-made Canterbury Bears that look as if they've already endured a lifetime of love. Designed – and priced – for adults as well as very special children – there's Edward, a bear with a history of scrapes that require stitches to hold his distressed honey-colored mohair hide together. And Alice, with long-pile mohair fur and "vintage effect" felt paws, wearing a black-and-cream polka dot dress, hair bow, and white bloomers trimmed with lace.
For iconoclasts, there's also Hannah, a Canterbury Bear who is actually a bunny with plush mohair fur and cashmere paws.
The highly huggable trio is hand-made in the authentic British tradition with fully jointed, hand-stamped wooden joints, stitched-silk noses, and sparkling black eyes, and are soft filled with just a touch of beans for balance. Prices reflect the care that goes into each heirloom bear: Edward is $199, Alice and Hannah, $179 each.
###