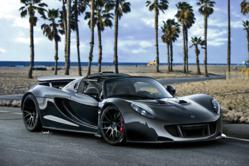 ...a driving experience like nothing else on Earth.
Sealy, Texas (PRWEB) December 01, 2011
Hennessey Performance (HPE) will offer its ultra lightweight supercar with a removable roof. Dubbed the Venom GT Spyder, Hennessey's 1200 horsepower, 1200 kilo, mid-engine monster will offer an extra dose of wind and sound when driven topless.
"With the hardtop in place, the Venom GT offers a very visceral, raw, driving experience", says company CEO, Don Goldman. "With the hardtop removed, the wind and the growl of the twin turbo V8 will offer our clients an even greater driving sensation."
HPE will build just five Venom GTs for the 2013 model year, two of which have already been ordered. Deliveries will begin in the summer of 2012. Clients can purchase either model: the Venom GT – with a fixed hardtop roof, or the Venom GT Spyder – with the new removable top. Base pricing for the Venom GT is $950,000. The Venom GT Spyder is priced at $1.1 million.
"We are excited to be able to offer an open-air American supercar, built in Texas, that provides the best power to weight ratio available on the market," says company founder, John Hennessey. "Simply put, the Venom GT Spyder is defined by its simplicity, elegance, performance and–for a lucky few–a driving experience like nothing else on Earth."
About Hennessey Performance
Hennessey Performance (HPE) has been making fast cars go faster since 1991. It operates a 30,000 square foot workshop and showroom facility situated on 143 acres near Sealy, Texas (about 45 minutes west of Houston). The company also operates a showroom and installation facility located in Lake Forest, California. HPE offers a wide variety of dyno proven, track tested parts and upgrades for a variety of modern performance vehicles. Hennessey Performance is also the only tuner in North America that operates its own test track – Lonestar Motorsports Park.
###