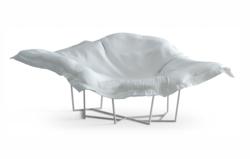 Miami, FL (PRWEB) December 01, 2011
During one of the biggest art celebration, Art Basel Miami, Poliform presents an opportunity to experience Art and Design within a real home environment of its Showroom. Poliform USA is proud to feature Italian Artist, Mario Arlati, with his latest collection of art inspired by the streets of Ibiza. The collection was carefully selected to complement the newest designs from Poliform, introduced earlier this year in Milan. Poliform Miami provides an exclusive firsthand look at the Carmel collection and Wallace chair designed by Jean Marie Massaud, Bolton sofa by Giuseppe Viganò, and many more featured designs.
A cocktail reception will be held to celebrate the opening night of the exhibition during Art Basel Miami. The exhibition opens Thursday, December 1st , and will be displayed until January 2012. Explore the collection at Poliform Miami Showroom and experience the emotional stories of the surfaces created by an Italian Artist.
Mario Arlati presents the matter as a living source, revealing the light from within, showing the internal values of objects. Inspired by the cracked walls of the structures in Ibiza, nourished by the sun, the artist shows the root of existence by telling a story behind each object. The artist shows the journey of the surfaces by presenting the marks and imperfections along with different hues of colors accumulating over the time. Arlati's manipulations and combinations of color, contrasts, differences in the intensity of light and size of paintings, create an experience of feeling the matter and reveal strongest emotions. Mario Arlati's work guides the eyes towards perceptual experience of sensation of color, density, and surface of the material, raising awareness of different shapes and values that make every piece so unique. He explores the energy of objects with colors and lights, which illuminate the heart of the matter.
Cocktail Reception | Thursday, December 1st | 6pm – 9pm
Poliform Miami | 180 NE 39th Street, Suite 101| Miami, FL 33137
For More Information Contact
Poliform USA PR | 212.421.1800 Ext. 7516 | press(at)polifromusa(dot)com | http://poliformusa.com
# # #