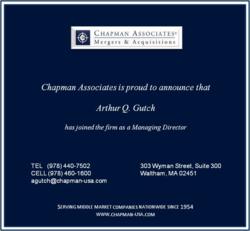 Joe Denny, Chairman of Chapman, said, "We are delighted that Arthur Gutch is joining us as a Managing Director. Arthur's industry expertise, along with his ability to build relationships and create opportunities will strengthen our capabilities."
Waltham, MA (PRWEB) December 01, 2011
Chapman Associates, headquartered in Schaumburg, Illinois is proud to announce that Arthur Gutch has joined the firm as a Managing Director, Mergers & Acquisitions. Mr. Gutch will be spearheading the development of the new office in New England and is available to speak with business owners who would like to learn more about the M&A process and how best to approach their specific situation and needs.
Mr. Gutch brings to Chapman Associates more than 22 years of industry experience in lower- to- middle-market mergers and acquisitions, private financings and business management. Mr. Gutch served as CEO of several businesses and, as an entrepreneur, started and financed his own technology and services-based companies bringing his clients the experience of having been on all sides of the transaction. Prior to joining Chapman, during the last nine years, Mr. Gutch was a Managing Director of Merchant Banking at TerraNova Capital Partners where he worked with small to mid-sized, family-owned businesses, completing transactions in the Transportation & Logistics, Media & Publishing, and Information Technology sectors. Prior to locating to the Boston area in 2002, Mr. Gutch was in Silicon Valley for ten years where his areas of engagement included: Internet & New Media, Wireless Communications, Marketing Automation, Healthcare Technology and Cross-border Market Development.
Joe Denny, Chairman of Chapman Associates, said, "We are delighted that Arthur Gutch is joining us as a Managing Director. Chapman has provided senior level experience to our clients for over 50 years, and Arthur's industry and operating expertise, along with his ability to build relationships and create opportunities for our clients, will significantly strengthen our capabilities in New England and elsewhere."
Chapman's 57 years of success in middle-market mergers and acquisitions is based on providing owners of closely-held mid-sized companies the same resources, expertise and representation that is usually only available to much larger companies. Focusing on companies that are valued between $3 million and $150 million, Chapman clients also include financial and strategic buyers and companies seeking divestitures. Chapman's mission is to help clients grow and sell their businesses in order to maximize their personal net worth. Chapman has employed a measured strategy of hiring senior professionals with M&A expertise and operating experience in the major industry segments. Those interested in speaking with Mr. Gutch regarding their specific needs can reach him directly at 978-440-7502. Schedule a phone appointment by clicking here or visit http://www.chapman-usa.com.
Chapman Associates is one of the oldest and most respected middle market mergers and acquisitions firms in the country. Since 1954 buyers and sellers have trusted Chapman Associates and during that time have successfully sold over 2,300 companies. A nationwide firm, Chapman's professionals provide senior level attention to every M&A engagement and receive complete, confidential consulting and advisory services throughout the merger or acquisition process. Chapman's professionals are strategically located throughout the United States, and provide in-depth research, rigorous analysis and carefully designed marketing services in support of each client's objectives. Chapman utilizes a proprietary, database-driven marketplace called Biz MartSM to provide clients with access to markets and buyers around the world in numerous industries.
# # #