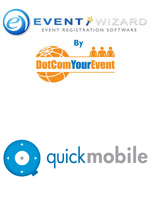 With this new partnership we will provide a streamlined end-to-end solution, from attendee registration to the creation of dynamic mobile applications for events large and small.
Vancouver, B.C. (PRWEB) December 01, 2011
QuickMobile, the global leader in mobile event applications for the meetings and events industry, today announced their newest partnership with leading online registration software and onsite registration service provider, DotCom Your Event Inc.
Mobile applications are becoming an essential element in the event marketing space, a need that QuickMobile delivers. DotCom Your Event complements this trend by offering the industry's most flexible event registration software in their proprietary web-based solution, Event Wizard. Both companies will work closely together to provide clients with end-to-end registration and mobile event solutions ensuring the best possible attendee experience.
DotCom Your Event had been exploring partner opportunities in the mobile event space in order to provide more value to their client base. "We have been eager to provide our clients with an option for mobile event apps and had begun exploring partner opportunities. During our research we noticed that apps built by QuickMobile kept appearing at major events and conferences throughout the world. It became apparent to us early on that forging a partner relationship with QuickMobile was the direction we wanted to pursue and one that was best suited for our clients," explains Rob Smith, Director of Web Marketing at DotCom Your Event.
Clients of QuickMobile will have the opportunity to also collect registration data through Event Wizard and have it fed directly into QuickMobile's platform, increasing the ability to personalize the event experience for attendees. Patrick Payne, CEO of QuickMobile states, "We are extremely excited to be partnering with DotCom Your Event. With this new partnership we will provide a streamlined end-to-end solution, from attendee registration to the creation of dynamic mobile applications for events large and small."
The two companies will leverage one another's platforms to provide their clients and attendees with a seamless experience before, during and after the event. Clients will begin by populating an event registration form through Event Wizard which then will trigger the development of an accompanying mobile event app with QuickMobile. Registrant data will be fed to the QuickMobile platform allowing event administrators to provide personalized agendas, communication, event information and more via the mobile app. Apps will be available on Android, iOS (iPhone/iPad), BlackBerry, Windows Phone 7 and Mobile Websites.
About QuickMobile
QuickMobile develops branded mobile applications for the meetings and events industry that inspire, engage and connect. Available for all major mobile platforms and devices, the company's interactive mobile applications and websites help meeting planners and organizers deliver a more interactive and engaging experience for event sponsors, exhibitors and attendees. QuickMobile's solutions extend customers' strategic planning, improve branding, and drive sales and marketing efforts in a fun, effective and sustainable way. QuickMobile has offices in Vancouver, Ottawa, London and Singapore. For more information, visit http://www.quickmobile.com. Follow QuickMobile on Twitter @quickmobile.
About DotCom Your Event Inc.
DotCom Your Event Inc. has been on the forefront of online event registration software, onsite registration services, and secure eCommerce payment processing systems since January 2001. DotCom Your Event's proprietary online registration software called Event Wizard allows customers to easily create and manage unlimited event registration websites from a single web-based account. Event Wizard is now widely used by many of the world's top brands in Oil & Gas, Health, Finance, Academic and Sports. Event Wizard supports any language in the world making it a true global online registration solution for any size event. For more information visit http://www.event-wizard.com or http://www.dotcomyourevent.com, or follow DotCom Your Event on Twitter @dotcomyourevent.
###