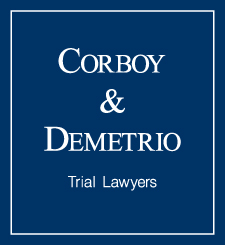 Our client felt that it was important for not only herself but for all tenants in our community that promises made should be kept.
Chicago (PRWEB) December 01, 2011
A Cook County jury returned a verdict of $1 million for a 24-year-old Chicago woman who was sexually assaulted in her Hyde Park apartment building as a lobby attendant sitting at the front desk ignored her screams for help.
Corboy & Demetrio partners Philip Harnett Corboy, Jr. and Michael K. Demetrio secured the verdict on the victim's behalf on Nov. 21 after a trial that lasted 14 days and included the testimony of the assault victim.
The victim, referred to as Jane Doe in the complaint to protect her identity, filed the negligence lawsuit against Creative Designs Builders Corp., which manages the apartment building; Ibrahim Shihadeh, who owns both the building and Creative Designs; and the building itself.
The victim was living alone for the first time and had moved into the building a week before her attack the night of Oct. 8, 2008. The building sits just four blocks from President Barack Obama's Hyde Park home.
The victim testified at trial she was abducted from behind by her attacker who followed her through the entry door and into the lobby of her apartment building, which had a controlled access system and a front desk with an employee on duty at the time. She told jurors she screamed, hoping to get the attention of the desk attendant but he did not respond.
The victim testified her assailant then placed his right hand over her mouth and told her he was going to "kill her if she didn't stop screaming." She also told jurors he continued pushing her through the building and ultimately pushed her out a back door to an alley where he sexually assaulted her. The victim eventually broke free and escaped to the lobby, where she screamed at the front desk attendant to call 911. He failed to respond, and the victim grabbed the phone at the desk and called for help. That 911 call was played for the jury.
"It gives new definition to the word nightmare," the victim's attorney Philip Harnett Corboy, Jr. said in opening statements. "This was a point in her life when protections promised to her, that she relied on, broke down in six or seven ways," Corboy added.
A sexual assault expert testified at trial the victim suffers from chronic post-traumatic stress syndrome and will continue to do so for the rest of her life.
In closing arguments delivered last Monday, Corboy & Demetrio partner Michael K. Demetrio told jurors the victim "was every bit entitled to a sense of safety but on that day, on that night, the building failed her."
Under current Illinois law, property owners are not ordinarily responsible for criminal actions by third parties. The defense attorney argued that the building, its management and owner had absolutely no responsibility to the plaintiff and that the attacker was the sole cause of the attack. However, Philip and Mike argued successfully that the rapist was not the sole proximate cause of their client's injuries—that the building, its management and its owner were.
"Our client felt that it was important for not only herself but for all tenants in our community that promises made should be kept," Demetrio said. "It is her hope this jury verdict results in better vigilance for the millions of apartment renters," he added.
Evidence at trial also included surveillance video of the victim's abduction in the lobby of the apartment building that showed the lobby attendant at his desk watching TV instead of reacting to the victim's attack.
Case information: Jane Doe v. Creative Designs Management Company, a corporation; Ibrahim Shihadeh, et al. Case #2008L-11828 filed in Cook County Circuit Court.
About Corboy & Demetrio
Corboy & Demetrio is one of the nation's premier law firms. It represents individuals and their families in serious personal injury and wrongful death cases and is renowned for its achievements in the courtroom and for its contributions to the community. The rights and concerns of its clients are at the core of Corboy & Demetrio's practice. That commitment, dedication, compassion and relentless drive has resulted in exceptional service and exceptional results for its clients. The firm has acquired more than $3 billion in settlements and verdicts and has attained almost 600 settlements and verdicts in excess of $1 million. To speak with Philip Harnett Corboy, Jr., Michael K. Demetrio or any other attorney at Corboy & Demetrio, call 312.346.3191 or toll free at 888.364.3191.
###