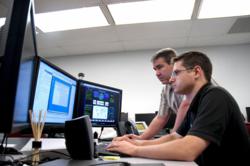 Due to our successes with the last grant, they want us to expand.
Midwest City, OK (PRWEB) December 01, 2011
A recent grant from the National Science Foundation to Rose State College will expand the number of openings for fully paid scholarship positions, part of a nationwide effort to expand cyber-security graduates, said Professor Ken Dewey, program director.
Dewey said the purpose of the five-year grant from the NSF is to expand the number of graduates to meet the growing demand nationally.
"Due to our successes with the last grant, they want us to expand. It's part of the National STEM (Science, Technology, Engineering and Math) Program," Dewey said.
Rose State College is in the rare position of being the only community college in the country with all six federal certifications in "network assurance" or cyber security.
The college is accepting applicants now for the 2012-2013 year. The grant pays for tuition, fees, and books. Applicants will be required to fill out Free Application for Federal Student Aid (FAFSA). Additional requirements include:

Student must be ready for College Algebra
Have a 2.5 high school or college GPA (3.0 preferred)
Declare Cyber Security as major at Rose State
Enroll full time with coordination of Director
Pass a law enforcement background check
For more information, contact professor Ken Dewey at kdewey(at)rose(dot)edu or 405-733-7977.
###