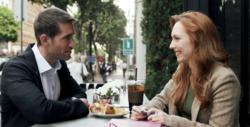 Ductape Media worked with Warner Bros to create a seamless storyline between the movie and the product
Santa Monica, CA (PRWEB) December 06, 2011
Star studded Warner Bros film New Years Eve arrives in theaters just in time for the holidays and boutique advertising agency Ductape was tasked to create a new promotional tie-in for Boston based Dentovations and their line of Luster White teeth whitening products to integrate with the film's storyline. Directed by Gary Marshall ("Valentines Day") New Years Eve follows a large ensemble cast (Jessica Biel, Zac Efron, Josh Duhamel, Katherine Heigl among others) as their lives intertwine in unexpected ways in the days leading up to New Years Eve in New York City.
First time film director Kholi Hicks was chosen to helm the spots. His feature, Superseeds is due in theaters in 2012 and the thirty-second format was a new world for him. "Warner Bros wanted a spot that played on the romantic serendipity in the film and our client was focused on teeth whitening of course so…unifying those two messages was a challenge! Ultimately I feel we got it right," Kholi said.
The Luster White spot begins with a young woman at a New York cafe scribbling New Years resolutions in her diary. The voice over asks, "Looking for New Years resolution you'll enjoy?" then the spot integrates brief cuts from the film with Zac Efron, Jessica Biel, Josh Duhamel and others with the story of the woman at the cafe when at first she misses, then finally meets a handsome guy who could be the one (after some teeth whitening of course). The spot feels fresh, big and eye catching and drives viewers to a Facebook fan page where they can enter to win an all expense paid trip for two to New York City to experience Times Square in person.
"We like this campaign because it's strong on imagery and also has a tightly integrated direct response component that isn't forced-it feels completely natural to both the movie's message and the product's message," said Garret Cheves, Ductape's Executive Producer, "We've developed a solid expertise in generating strong measurable response from thirty second spots which was unheard of just a few years ago."
Ductape is located in Santa Monica, CA and began six years ago creating content for companies like Guthy-Renker and Beachbody (think Proactiv and P90X). As the name implies Ductape aggregates multiple advertising services together under one roof including ideation, production, post production and media distribution and focuses mostly on US television but has also created successful TV campaigns in international markets such as Japan, Germany, Australia and the UK.
###