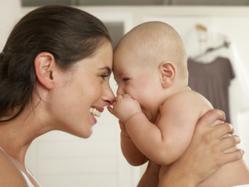 Parents are placing a very high value on breastfeeding. There is an opportunity to help parents who want to breastfeed their children for longer than six months, but lack the resources to help cope with problems that may arise.
Andover, MA (PRWEB) December 05, 2011
New and expecting parents in the United States are doing all they can to ensure a healthy future for their children - including breastfeeding their babies for as long as they are able, according to the Philips Mother & Child Care Index. This newly released special report from Philips Center for Health and Well-being was conducted with mothers and fathers across the United States, focusing on breastfeeding practices, prenatal care and the overall health and well-being of parents, including factors such as stress and sleep.
The survey highlighted the fact that women are enthusiastic about breastfeeding. Ninety-five percent of women reported having at least attempted to breastfeed their babies, with 35 percent continuing for between four and six months, and another 52 percent breastfeeding for seven to twelve months.
And parents would like to breastfeed even more – 72% expressed a desire to continue breastfeeding as long as possible. The survey cited pain and lack of milk supply as the two top reasons women give-up on breastfeeding, and a return to the workplace also contributed to their decision to stop breastfeeding.
"The findings show that parents are placing a very high value on breastfeeding," said Katy Hartley, Director for the Philips Center for Health and Well-being. "There is an opportunity to help parents who want to breastfeed their children for longer than six months, but lack the resources to help cope with problems that may arise."
Pain was usually a factor that caused women to stop breastfeeding within the first three months, and lack of supply typically caused women to stop between three and seven months. Sixty-seven percent of American women cited a lack of milk supply as a reason, compared with 40% globally. Seventy-three percent of American women completed a breastfeeding course, compared with 41% of mothers globally.
"Parents' commitment to breastfeeding should be bolstered by a recent IRS ruling that expenses paid for breast pumps are deductible medical expenses under IRS Section 213(d)," said Ron Tiktin, Marketing Director, Philips AVENT. "As a result, expenses for these items may now be reimbursed by Flexible Spending Arrangements, Health Reimbursement Arrangements and Health Savings Accounts. Given the numerous health benefits associated with breastfeeding, Philips AVENT is committed to providing parents the means to continue breastfeeding for as long as possible with our breast pumps."
Two thirds of parents consider themselves stressed, the survey reported. Primary stressors – the economy and parents' ability to pay bills – are reflective of the country's uncertain economic landscape. Mothers report feeling more stress than fathers, and this stress level is exacerbated as the number of children increase.
Another theme the survey highlighted was parents' focus on excellent prenatal care, with 96% of women reported receiving regular sonograms, 12-week scans and 20-week scans as part of their prenatal regimen. Additionally, 89% of fathers and 64% of mothers consulted with their general practitioners for health advice during pregnancy.
These results are part of a global survey conducted by the Philips Center for Health and Well-being among men and women, ages 18 – 40, with children ages zero to five, or who are expecting a child. The report focused on the responses of a representative sample of almost 5,600 moms in South Africa, Egypt, UK, U.S., Brazil, China and India regarding their experience breastfeeding.
For more information, please visit the Philips Center for Health and Well-being at http://www.philips-thecenter.org/.
For media inquiries, please contact:
Lori Shamroth
Philips Healthcare
Tel: + 1 (978) 659-3776
E-mail: Lori(dot)Shamroth(at)philips(dot)com
About Royal Philips Electronics
Royal Philips Electronics of the Netherlands (NYSE: PHG, AEX: PHI) is a diversified health and well-being company, focused on improving people's lives through timely innovations. As a world leader in healthcare, lifestyle and lighting, Philips integrates technologies and design into people-centric solutions, based on fundamental customer insights and the brand promise of "sense and simplicity." Headquartered in the Netherlands, Philips employs over 120,000 employees with sales and services in more than 100 countries worldwide. With sales of EUR 22.3 billion in 2010, the company is a market leader in cardiac care, acute care and home healthcare, energy efficient lighting solutions and new lighting applications, as well as lifestyle products for personal well-being and pleasure with strong leadership positions in male shaving and grooming, portable entertainment and oral healthcare. News from Philips is located at http://www.philips.com/newscenter.
###