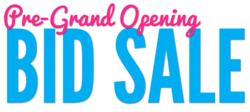 MadNoodle.com is holding "Auction MADNESS" during their grand opening week from 6:00pm-12:00am EST every day
Loveland, CO (PRWEB) December 01, 2011
MadNoodle.com is excited to celebrate their grand opening on Monday, December 5th at 6:00 EST. The goal of MadNoodle is to bring great deals and savings on online products and merchants into one place for shoppers to find and save on what they are looking for.
In celebration of this exciting grand opening, MadNoodle.com is holding "Auction MADNESS" during their grand opening week from 6:00pm-12:00am EST every day. This will include hot gift card and bid pack auctions ending every 30 minutes for 8 hours a day.
MadNoodle.com will also be offering free bids for anyone who registers on December 5th! Interested parties can get up to 30 free bids just for registering before the grand opening. Register by Dec 1st at 6:00pm EST and receive 30 free bids, December 2nd receive 25 free bids, December 3rd receive 20 free bids, December 4th receive 15 free bids and December 5th receive 15 free bids.
In addition to the free bids, they will also be offering auction bids at industry low prices. Bids will only be $.55 per bid if purchased by December 1st at 6:00pm EST, $.56 per bid if purchased by December 2nd, $.57 per bid if purchased by December 3rd, $.58 per bid if purchased by December 4th, and $.59 per bid if purchased by December 5th.
With a grand opening promotion like this, gift card auction enthusiasts will be thrilled to try out http://www.MadNoodle.com and find bids so cheap they're practically free.
About MadNoodle.com
MadNoodle Gift Card Auctions is a penny auction website. The online penny auctions focus solely on gift cards, which everybody loves! Their goal is to offer savings of up to 99% on brand name gift cards. MadNoodle Gift Card Auctions feature several different types of auctions, such as; penny auctions, reverse auctions, free auctions and more.
# # #