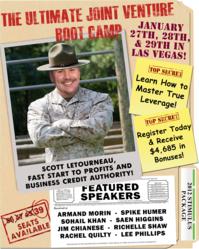 Joint Ventures are the ultimate strategy to leverage your marketing," says Scott Letourneau.
Las Vegas, NV (PRWEB) December 06, 2011
One man is on a mission to help businesses succeed and become one of the Top 5% that not only survive, but thrive in such tumultuous economic times. Scott Letourneau, CEO of Nevada Corporate Planners, is conducting The Ultimate Joint Venture Boot Camp being held Jan, 27th-29th, 2012 will take small business owners through a step-by-step process on how to leverage an ancient strategy used by nation's leaders, in times of war and quite successfully by businesses known as host/beneficiary relationships. This one strategy allows business owners to grow their business at almost zero cost.
"In today's economy, especially in the United States, about 95% of business owners fail within five years. One of our goals for small business owners is to beat the odds. Most small business owners don't have the cash flow and capital for advertising to grow. At The Ultimate Joint Venture Boot Camp our world-class trainers will help solve this problem for small business owners," added Letourneau.
Joint ventures, strategic alliances and host/beneficiary relationships are a way of working together with others that will benefit all parties involved. Letourneau's unique Joint Venture Boot Camp will teach the A to Z blueprints needed to leverage relationships in order to bring enormous profits to small business owners. Attendees will gain skills on how to establish and leverage joint ventures, understand their magnitude, and learn the "do's and don'ts" of a joint venture.
Speakers at The Ultimate Joint Venture Boot Camp (held at the Gold Coast Casino in Las Vegas, January 27th -29th, 2012 from 9:00 a.m. to 6:00 p.m.) include world-renowned professionals in business: Scott Letourneau, CEO of Nevada Corporate Planners and Fast Business Credit; Spike Humer, an international expert at engineering entrepreneurial success stories; Armand Morin, an Internet strategist and marketing authority; Lee Phillips, a counselor to The Supreme Court and asset protection expert; Sohail Khan, President of The Joint Venture University; "Jump Start" Jim, a social media and relationship marketing specialist; and Rachel Quilty, "Authority" on Personal Branding, CEO and owner of Jump the Q® Inc.
To learn more about The Ultimate Joint Venture Boot Camp, visit http://www.TheUltimateJointVentureBootCamp.com.
Scott Letourneau is an international expert in helping business owners get off to a fast start to profits™. He has helped over 5,850 business owners incorporate, build business credit and keep the IRS off their back. His Top 5% Club is designed to help entrepreneurs be in that top five percent that are still in business, successful and profitable after five years.
About Nevada Corporate Planners, Inc.
Headquartered in Las Vegas, Nevada Corporate Planners, Inc., was founded by Scott Letourneau in 1997. In 2003, he founded Fast Business Credit, Inc. He is also a busy lecturer, consultant and author. He is recognized nationally and internationally as a leading expert in helping business owners incorporate their business and get off to a fast start to profits™. Letourneau is a contributing author to Start Your Own Information Marketing Business by Entrepreneur Magazine.
Mr. Letourneau is recommended by highly esteemed professionals such as Sandy Botkin, a top Attorney/CPA; Michael Gerber, the famous E-Myth author; top Internet marketers Tom Hua, Brett McFall, and Stephen Pierce; marketing expert Jay Abraham and other top U.S. and international CEOs and professionals. Leading entrepreneurs throughout the world laud him as the foremost authority on not only incorporating businesses, but also helping owners get access to capital and off to a fast start to profits™.
He has appeared on CNN Headline News with Pat Summerall's Success Stories and has also been interviewed by various radio and TV stations throughout North America, eager to tap into his expertise and experience.
Mr. Letourneau is the only speaker offering a program to help clients accomplish two goals: how to grow net worth and profits in the shortest period of time; plus how to keep them, protecting their net worth as they build and accumulate it.
Media Contact:
Denise Mickelson
Nevada Corporate Planners, Inc.
702-367-7373
###