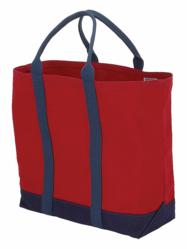 We were looking for a new online ordering system which would offer more versatility and a better shopping experience for our clients.
Kennebunkport, ME (PRWEB) December 01, 2011
Port Canvas, the innovative manufacturer of canvas bags, luggage and accessories, has launched a new e-commerce website featuring over 150 of their products including their popular monogrammed canvas tote bags. The Kennebunkport, Maine manufacturer has been making rugged canvas products for consumer and corporate clients for over 40 years, specializing in pieces that offer innovative storage solutions in extremely rugged canvas designs. Their products ship around the globe.
"We were looking for a new online ordering system which would offer more versatility and a better shopping experience for our clients," stated Ned Thompson of Port Canvas. "We have a great number of options available for customization, including the ability to add additional pockets, multiple colors, zippers, lining and custom embroidery. We needed a website that could handle the dynamic nature of our line of products and could give our clients better functionality and flexibility in ordering."
Thompson and his wife Margot have owned the company since 1994 and have continued to add to the product line as consumer needs have changed. "When we initially acquired the company, laptops, PDAs and smart phones were still 10 years away from mainstream use, if available at all," stated Thompson. "We now have a complete line of canvas bags for business travel, organization of digital devices, and of course, our cute duffel bags. We've made sure our product line reflects the modern needs of our customers."
Port Canvas turned to Portsmouth, NH based Harbour Light Strategic Marketing to help develop the new site. "We loved the durability of the products and the commitment Port Canvas has made to making their products locally," stated Ned Savoie, Creative Director at Harbour Light. "At a time when many companies have outsourced their production overseas, Port Canvas has made a commitment to the local economy in Maine, and as a result has superior quality and improved control over their manufacturing. They are a great role model for how "Made in America" means better quality, better products and competitive pricing."
The new site, http://www.portcanvas.com, offers an easy to use interface, the ability to customize many of their products, and a secure, seamless checkout process. Port Canvas also offers corporate and wholesale discounts to qualified buyers and worldwide shipping.
About Port Canvas
The Port Canvas Company has been making soft canvas products in Maine, USA since 1968. Each bag is made with pride in their shop in Kennebunkport, and you'll find the initials of the craftsman who made your bag proudly inscribed on the backside of every label. They also specialize in custom designs tailored to the specific needs of their clients.
About Harbour Light Strategic Marketing
Harbour Light Strategic Marketing is an award-winning strategic marketing agency located in Portsmouth, NH. Since 1995, we've specialized in creating engaging marketing tools, successful brands, productive websites, unique advertising campaigns and other implements of success for companies around the block and around the country.
###