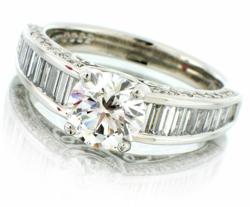 They are all so deserving. Every last one.
Atlanta, GA (PRWEB) December 01, 2011
Union Diamond (http://www.UnionDiamond.com), a leading online diamond jeweler, announced yesterday the names of the six finalists in the "My Perfect Union" $40,000 platinum and diamond engagement ring giveaway open to members of the military. Servicemen and servicewomen were encouraged to nominate themselves or be nominated by friends or family members through a video submission and/or essay submitted to the website, http://www.MyPerfectUnion.UnionDiamond.com. All branches of the U.S. Military were eligible as well as both active duty and retired members of the Armed Forces.
"After tens of thousands of visits to this site and hundreds of submissions that were as heartwarming as they were moving, it is finally time to announce the six finalists in the My Perfect Union diamond engagement ring contest," said Scott Anderson, President and CEO of Union Diamond. He then went on to address all of the nominees by stating that, "The people who nominated you are people whom you have inspired. They are people whose lives you've touched; who want bigger and better things for you because they realize that you make incredible sacrifices every single day. Thank you for your service to this country, and thank you for being willing to have your story shared with the rest of us. You've now touched our lives and have inspired us all."
The website started accepting submissions on September 27th and the recipient of the prize will be announced on December 6, 2011. Scott Anderson will personally deliver the grand prize to the winner. The ring consists of a GIA certified internally flawless diamond surrounded by a Natalie K designer setting made of Precious Platinum.
The names of the six finalists and their stories can be found by visiting the My Perfect Union website. When asked about the emotions felt during the process, Anderson responded, "I've read each submission more than a few times. I just keep reminding myself of what I wanted to accomplish going into this." He added, "They are all so deserving. Every last one."
About Union Diamond
Selected as one of Forbes magazine's "Best of the Web," Union Diamond offers one of the largest and most diverse inventories of diamonds and jewelry available on the internet today, with over 60,000 individual finely cut certified diamonds in prices ranging from $300 to $3,000,000. Their award-winning online showroom is simple, clean, and easy to use, providing clear and concise information for every item selected. Union Diamond is headquartered in the prestigious Overlook III Tower in the Historic Vinings section of Atlanta, where they welcome customers to visit their one-of-a-kind showroom high atop the city. All diamonds are certified by the Gemological Institute of America, the European Gemological Laboratory, or the American Gem Society and include a 30-day return policy. For more information please call 800-319-9155 or visit http://www.UnionDiamond.com.
###