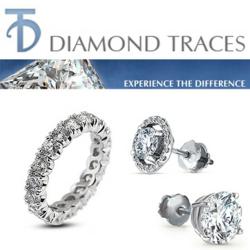 An easier, quicker more intuitive transaction for the customer.
New York, NY (PRWEB) December 02, 2011
Diamond Traces, the up and coming loose diamond and fine jewelry distributor in the US, is pleased to announce the launching of their brand new website. This new website will provide a completely revamped, user friendly and streamlined interface for Diamond Traces customers to more easily make their Natural Loose Diamonds and Clarity Enhanced Diamonds Jewelry purchases.
With this new upgraded image and user interface, Diamond Traces hopes to provide its customers with unparalleled comfort and efficiency. Using Web 2.0 technologies, such as AJAX and DHMTL, Diamond Traces is able to bring clarity enhanced to the online consumer.
Since starting their operations in 1998 in New York, the Diamond Traces family has built a name for itself as a premier dealer in Ideal Russian Cut Diamonds.
Diamond Traces has leveraged web technology to created it's advanced Diamond Jewelry Builder. Diamond Jewelry Builder is a tremendous visual aid that allows customers to test each of the many different diamond shapes with a large selection of the more popular engagement ring settings to determine the best combination. Men and women use Diamond Jewelry Builder because it is a practical visual aid that is fun and easy to use. "This new graphical interface for the customers will allow an easier, quicker more intuitive transaction for the customer, while reducing the need for over the phone customer service," says Jacob Mernod, sales manager.
When the best combination of diamond shape and engagement ring is chosen, the customer can then review the large selection of various weight, discounted certified diamonds from Diamond Traces' Diamond Link to pick a Clarity Enhanced diamond to match the setting. When the customer is satisfied, they can place the order on-line.
###