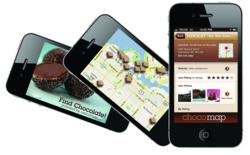 Love this app. Found so many sweet (hah) chocolate shops I didn't know about!
by amannegren - Android Market
(PRWEB) December 01, 2011
The FIND CHOCOLATE! app has drawn more than 1,000 new subscribers since its official launch on November 7 of this year, following a soft launch earlier this summer. And with Christmas coming on, it's sure to appeal to shoppers wanting to find the best for the chocoholics on their list.
The app for Android, iPhone and iPad connects mobile users with Chocomap.com and its data base of chocolate shops around the world. FIND CHOCOLATE! was created by Ecole Chocolat, the unique online school for professional chocolatiers and chocolate makers.
"We've increased the number of subscribers to more than 7,000 and we're also getting people adding their favorite chocolate shops to our data base. We now have more than 2,200 shops listed from around the world," says Pam Williams, a master chocolatier by training and owner of Ecole Chocolat.
For more information, see: http://chocomap.com/chocomap_mobile.php
###