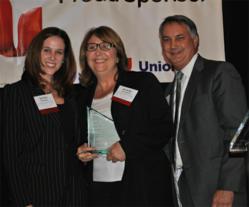 We are proud of the fact that we are a successful family owned and run business. And we love being part of the Orange County business community.
Huntington Beach, CA (PRWEB) December 01, 2011
Teacher Created Materials, a leading educational publisher, was selected as a 2011 Family Owned Business Award winner by the Orange County Business Journal. The award is presented annually in association with California State University Fullerton's Family Business Council to recognize outstanding family firms based in Orange County.
"This is truly an honor," said company founder, Rachelle Cracchiolo, who was on hand to receive the award. "We are proud of the fact that we are a successful family owned and run business. And we love being part of the Orange County business community."
Rachelle's daughters, Corinne Burton and Deanne Mendoza, are President and Executive Vice President respectively. Both are intimately involved in the day-to-day operations, including product development, domestic and international sales, and marketing. And in some difficult economic times for the education industry as a whole, Teacher Created Materials is not only meeting but exceeding its sales goals and continuing to create award-winning products.
"My mother is a true entrepreneur – she started this business with the goal of sharing her love for education and her support for teachers and we remain true to that goal today. In fact, our tagline is 'created by teachers for teachers and students,'" said daughter Deanne Mendoza.
In its 35-year history, Teacher Created Materials has been recognized with over 40 industry awards. Among them are three prestigious Golden Lamp Awards and 20 Distinguished Achievement Awards from the Association of Educational Publishers (aepweb.org), as judged by educational leaders from around the country. And in 2010, Rachelle was inducted into the Educational Publishing Hall of Fame.
The company's community involvement is extensive and includes endowing a scholarship through the School of Education at California State University Fullerton to recognize achievement in the development of educational curriculum. In 2012, TCM will participate in the OneOC program which connects local corporations seeking opportunities to volunteer with needy projects in the community. And TCM has made numerous donations to assist with school systems struggling with disaster relief nationwide.
"We endeavor to be good neighbors, whether in our local community or in the broader education community," stated company President, Corinne Burton.
Now in its 12th year, the OCBJ Family Owned Business Award is open to family firms based in Orange County, California. This year's competition saw 66 nominees in five categories. Each nominee and winner is judged by multiple criteria, including overall business success, multi-generational employees and managers, innovative business practices, and contributions to the Orange County business community.
For more information, visit http://www.ocbj.com/bizevents/.
About Teacher Created Materials
Teacher Created Materials is one of the most recognized names in educational publishing. For 35 years, TCM's award-winning resources have been used by educators in all 50 state and 96 countries. Offering a broad range of innovative curriculum resources, TCM's products support reading, writing, mathematics, social studies, science, technology, early childhood, and professional development for Grades Pre•K-12. All of TCM's resources and professional development training reflect the latest research, best classroom practices, and achievement-oriented methodologies. The practical and teacher-friendly solutions created by Teacher Created Materials help teachers do what they do best – reach, teach, and inspire students everywhere.
###