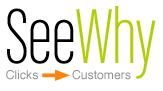 SeeWhy's multi-stage approach mitigates the shock of receiving abandoned-cart emails and actually encourages people to open those emails by keeping our brand top of mind.
Boston, MA (PRWEB) December 01, 2011
SeeWhy, Inc., the real-time shopping cart recovery company, today announced that California denim retailer Lucky Brand doubled conversion rates and tripled online revenue after implementing SeeWhy Conversion Manager. A detailed case study is available at http://ow.ly/7Ji9t.
SeeWhy Conversion Manager helps recover lost revenues from abandoned ecommerce shopping carts by tracking website visitors and triggering 1-to-1 follow-up emails shortly after the abandonment when the opportunity to convert is greatest. The result is an easy-to-deploy, effective remarketing solution for e-retailers.
"Following up on shopping cart abandoners is very effective, but the timing is critical," said Scott G. Silk, president and CEO of SeeWhy. "Real-time ecommerce remarketing offers a measurable competitive advantage for e-retailers, compared to typical email campaigns sent a few days after a visitor abandons a website. This is because over 90 percent of abandoned shopping carts go cold within an hour. With Conversion Manager, e-retailers can now remarket to their customers in real time and capture lost revenue before it's too late."
Charlie Cole, vice president of online marketing at Lucky Brand, recognized the value proposition of Conversion Manager and tested its real-time capabilities against their batch-based web analytics abandonment program.
"SeeWhy's multi-stage approach mitigates the shock of receiving abandoned-cart emails and actually encourages people to open those emails by keeping our brand top of mind," said Cole. "It also highlighted the limitations of our old batch-based abandon-the-cart email program and the delays created by its batch-based email approach. For instance, let's say your brother came to the site at 8:00 a.m., your sister came to the site at noon, and your neighbor came to the site at 4:00 p.m. They would all get the same abandonment email the next day, at the same time. With SeeWhy, we had an opportunity to close that gap."
Lucky Brand immediately saw an increase in click-through rates with the first email sent just seven minutes after cart abandonment, and after a one-month pilot, reports a 100 percent increase in the number of conversions from prior remarketing emails, resulting in a 300 percent increase in online revenue.
For information on SeeWhy, visit seewhy.com. For additional perspectives, please visit and subscribe to the SeeWhy RSS blog feed at seewhy.com/blog, and follow SeeWhy on Twitter at @seewhyinc and Facebook at facebook.com/SeeWhyInc.
About Lucky Brand
Lucky Brand designs and produces men's and women's jeans, sportswear, knits, wovens, outerwear, T-shirts and active wear. Additional Lucky Brand licensed products include swimwear and accessories for men and women. The Lucky Brand collections are carried at better department and specialty stores, and at over 183 company-owned stores nationwide and three internationally. The complete collection can be viewed at http://www.luckybrand.com.
About SeeWhy
SeeWhy is the industry's only shopping cart recovery solution to follow up in real time via email and social networks. The company delivers the highest ROI in ecommerce by responding immediately to shopping cart and web form abandonment with behaviorally triggered 1-to-1 messages. Remarketing to abandoned visitors using Conversion Manager converts up to 50 percent of visitors that had abandoned their shopping carts, online forms, applications and registrations. SeeWhy is headquartered in Boston, MA. More information can be found at http://www.seewhy.com/.
SeeWhy, the SeeWhy logo and Conversion Manager are service-marks or trademarks of SeeWhy Inc. All other trademarks are the property of their respective owners.
Tags: SeeWhy, Lucky Brand, Conversion Manager, shopping cart abandonment, remarketing, website conversion, email conversion, web analytics, ecommerce, internet marketing, email marketing, social media marketing, shopping cart optimization
Media Contacts:
Stacy Buchanan
Director of Marketing, SeeWhy, Inc.
617.245.6022
Stacy.Buchanan(at)SeeWhy(dot)com
Dottie O'Rourke
TECHMarket Communications
650.344.1260
SeeWhy(at)TECHMarket(dot)com
###