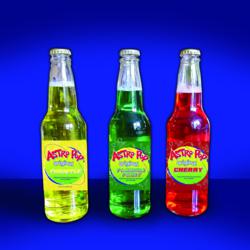 Astro Pops is such an iconic, classic candy, it was a no-brainer to literally launch soda pop with those same loved candy flavors.
Irvine, CA (PRWEB) December 02, 2011
Now that the holiday season is upon us, it's time for friends, family and parties. Of course, a holiday party is not complete without some good old-fashioned holiday drinks. Astro Pops® sodas, which launched this past summer, offer the great taste of the classic, world-favorite Astro Pops® candy in delicious and refreshing carbonated soft drink flavors.
According to Leaf Brands CEO Ellia Kassoff, "Astro Pops is such an iconic, classic candy, it was a no-brainer to literally launch soda pop with those same loved candy flavors. Moreover, we were seeing many cocktail and mocktail concoctions created with the "Astro Pop" moniker so we believed it was a natural extension to make a non-alcoholic beverage version."
Available in the three original Astro Pops® flavors we love: Pineapple, Passion Fruit and Cherry, Astro Pops® sodas add a quenching and refreshing treat and vibrant in red, green and yellow colors, are perfect for the Holidays.
Here's an easy recipe for a non-alcoholic and festive mocktail, perfect for every holiday get together, from a workplace cookie swap to Christmas brunch to New Year's Eve to kick in the new year.
Sparkling Astro Pops® Paparazzi
4 servings
Active Time: 10 minutes
Total Time: 1 hour 10 minutes (including 1 hour freezing time)
INGREDIENTS

1/2 cup fresh or frozen raspberries, for garnish
2 cups Astro Pops® soda (your choice of flavor)*
2 cups club soda
2 tablespoons lime juice, plus 4 wedges for garnish
*Or, try mixing all three flavors together, creating your own Astro Pop®!
PREPARATION
1. If using fresh raspberries, freeze them in a single layer for about 1 hour (or overnight) before proceeding with Step 2.
2. Combine Astro Pops® soda, club soda and lime juice in a pitcher. Divide among 4 ice-filled glasses. Garnish with frozen raspberries and lime wedges.
Enjoy! Delicious and festive!
There are several other Astro Pops® recipes on-line as well.
Suggested retail price of Astro Pops® soda is $1.99 for a 12 oz. bottle, and distributed in Specialty Food, Drug and Mass Market Retailers.
About Leaf Brands, LLC: The original LEAF Brands were started in the 1920's. LEAF Brands, once the fourth largest candy producer in North America, owned candy classics such as Whoppers® and Jolly Rancher® to the marketplace. Members of the Leaf family have assembled together once again to revive the Leaf name and its famous image after the US division was sold to The Hershey Corporation in 1996, and the Leaf name was no longer used in the United States. Products include Astro Pops®, Yummers!™, Farts™ and David's Signature Beyond Gourmet™ products.
###