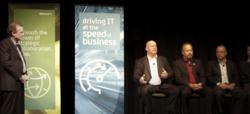 San Diego, CA (PRWEB) December 01, 2011
November saw more than 6000 IT management experts descend on the Mandalay Bay Resort & Casino in Las Vegas for one of the year's largest cloud technology events: CA World 2011. ScaleMatrix, a Bronze Level event sponsor and strategic partner of CA Technologies, joined a variety of industry leading solutions experts and thousands of enterprise class end users to exchange insights on various CA products and platforms, with specific emphasis on the Private Cloud platform, "CA AppLogic™."
As one of the key infrastructure partners for CA Technologies, ScaleMatrix used the event as the official launch platform for their "Cloud in a Box™" mobile compute platform. This revolutionary offering simplifies the deployment of Private Cloud infrastructure by combining servers, cloud software, networking hardware, and HVAC/Fire Suppression, all within a mobile and proprietary ScaleMatrix high density, self-contained server rack. "We couldn't think of a better venue or audience to debut the Cloud in a Box™ platform", said Chief Sales & Marketing Officer Chris Orlando. "In a convention center, you don't have access to racks, cooling, or infrastructure support – so the Cloud in a Box™ platform was ideal for housing the extensive infrastructure CA needed to run the CA World show floor and numerous product demonstrations", Orlando said.
Attendees enjoyed numerous exhibitions, in addition to a number of key breakout sessions which included presentations from ScaleMatrix CEO Mark Ortenzi. As an established leader in the AppLogic Private Cloud revolution, ScaleMatrix presentations centered about the flexibility and feature sets offered by AppLogic. Mark said, "Events like these are great, because our team gets the opportunity to engage with such a wide variety of end users and service providers. One of the beauties of AppLogic is that the feature set and pricing model naturally lend itself to so many different scenarios. Our team walked away from the event with new opportunities from both the SMB and Enterprise space, as well a number of Service Providers looking to "quick-start" their entrance into the cloud space.
Additional show highlights included the much-heralded launch of the Cloud Commons Marketplace and Developer Studio. This one-stop-shop for Building, Buying and Selling Enterprise Class Cloud Solutions contains a wide variety of resources for those navigating the cloud landscape. The site aims to become "the" resource destination for cloud aficionados, including those looking to take a more detailed look at the CA AppLogic platform. As such, ScaleMatrix infrastructure and professional services offerings are part of the available options visitors can choose from within the Cloud Commons Marketplace. These offerings can be seen in the Cloud Commons Marketplace or viewed here.
A common takeaway from the CA World 2011 event was the need for turnkey solutions which allow IT organizations to more easily leverage Cloud technology. Solutions need to be easily integrated and when possible should include readily available business use cases to support them. The pre-configured options available from ScaleMatrix through the Cloud Commons Marketplace answers this call, and allows clients to test-drive these highly scalable cloud solutions before they buy.
About ScaleMatrix
ScaleMatrix takes an infrastructure-based approach to providing best-in-class cloud solutions to clients at every stage of their IT Lifecycle development. By investing heavily in both facilities and personnel, and developing strategic relationships with critical hardware, software, and support service vendors – we are able to offer our clients industry leading solutions which include design, deployment, and ongoing management as part of our standard offering. For additional information, visit ScaleMatrix at http://www.scalematrix.com.
###