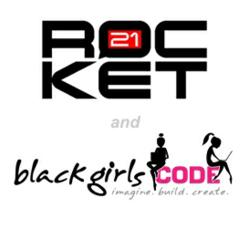 Rocket21's safe social platform is ideal for Black Girls Code students to explore real-world paths for applying technical skills in a nearly infinite range of possibilities, said Rocket21 Sr. Director of Outreach and Alliances, Lisa Litsey.
San Francisco, CA. (PRWEB) December 01, 2011
Rocket21™ (the new social website where youth explore amazing possibilities for their lives and futures) and Black Girls Code (a non-profit organization helping girls of color, ages 7 to 14, to become successful computer programmers) have teamed up to support the development of a vibrant community among Black Girls Code members, their leadership, and PRO role models on Rocket21.
"Our programs are built around a model which pairs girls into teams to work jointly on group projects along with our tech mentors and instructors," explained Kimberly Bryant, Black Girls Code Founder. "Rocket21 offers our students a way to share their projects and engage their peers with newly learned skills. And, the opportunity for our team to participate as Rocket21 PROs allows us to share our mission with kids all over the country."
"Rocket21 is the perfect environment for helping Black Girls Code students explore real-world opportunities for applying technical skills in a nearly infinite range of possibilities," said Rocket21 Sr. Director of Outreach & Alliances, Lisa Litsey. "By connecting with Rocket21 PROs in our safe and welcoming environment, the girls will see STEM opportunities brought to life and connect directly with relatable, authentic role models and peers who share similar interests and affinities."
Black Girls Code is non-profit organization that has as its mission a goal of increasing the numbers of young women of color in the fields of digital and computer technology, by providing them with skills in computer programming, exposing them to role models in the technology space, and increasing their self-confidence by teaching them the skills required to become tech creators and entrepreneurs.
Hundreds of experts, called R21 PROs, from hundreds of fields have been invited to interact with youth on Rocket21. They include explorers, artists, ecologists, business executives, entertainers, scientists, engineers, nurses, doctors, educators, and more – people who do some of the amazing things kids dream of doing.
About Rocket21
Rocket21 provides unprecedented access to world-class experts and organizations while protecting them with a combination of state-of-the-art, real-time filtering and human moderation, extensive safety and security precautions, and a specialized infrastructure designed to keep kids safe.
Like Rocket21 on Facebook and Follow @Rocket21 on Twitter. For more information about Rocket2, please contact Media Relations at media(at)rocket21(dot)com.
About Black Girls Code
Black Girls Code was founded by Kimberly Bryant, a Biotechnology/Engineering professional who received her first taste of computer programming as a freshman in Electrical Engineering back when FORTRAN and PASCAL were popular languages in the computing world. Bryant launched Black Girls Code to meet the needs of young women of color who are underrepresented in the field of technology. The organization's mission is to introduce programming and technology to a new generation of coders who will become the leaders and creators of tomorrow.
Like BlackGirlsCodeOrg on Facebook and Follow @BlackGirlsCode on Twitter. For more information on future Black Girls Code programs, please see http://www.BlackGirlsCode.com and contact Future(at)BlackGirlsCode(dot)com.
###