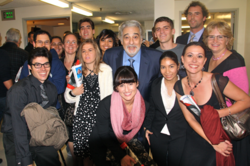 Los Angeles, CA (PRWEB) December 01, 2011
A group of young adults with epilepsy were invited by the L.A. Opera Company to see Roméo et Juliette, an opera by Charles Gounod, on Sunday, November 20, 2011. The opera outing was organized and escorted by staff and volunteers of the Epilepsy Foundation of Los Angeles as a special kick-off for the young adults program.
Following the show, the group was taken backstage and greeted by Plácido Domingo, Eli and Edythe Broad General Director of the LA Opera and conductor for the landmark production. Domingo, who had personally invited the group backstage, presented a donation to the Epilepsy Foundation of Greater Los Angeles.
"It was an extra special treat to meet international superstar Plácido Domingo, live and in person, after the opera. We are grateful for the generous donation he made to the cause of END EPILEPSY," exclaimed Susan Pietsch-Escueta, Executive Director of the Epilepsy Foundation of Greater Los Angeles.
Plácido Domingo, a frequent patron of Kendall's Brasserie, the French restaurant located beneath the Dorothy Chandler Pavilion at the LA Music Center, cultivated an interest in the cause when he became acquainted with Rachel Monroe, an employee at Kendall's Brasserie who regularly waits on his tables. Domingo became a friend and supporter of Monroe, who underwent surgery for temporal lobe epilepsy last year.
"He is kind and generous and has shown concern towards me, and now, to our local Epilepsy Foundation also. I am honored to have his support for this special social-support program that I am helping to lead as a new intern at the Epilepsy Foundation of Greater Los Angeles," recounts Rachel Monroe.
The fifteen Foundation guests reflected the diversity of epilepsy -- men and women of different ages experiencing very different types of epilepsy and seizures. For many in the group, not only did this outing represent a rare opportunity to connect with others who share a similar struggle, but it also marked their first visit to the LA Opera -- an occasion made all the more special by the personal introduction to Plácido Domingo.
"This event was the perfect showcase for something I wanted to do for a long time -- get together with people my age who also have epilepsy," noted Derek Reese, a young adult with epilepsy.
"I wish everyone could be as loyal and passionate in the fight to end epilepsy as Romeo was in his battle to win over the Capulets!" adds Nathan Jones, an adult with epilepsy and project manager at the Epilepsy Foundation of Greater Los Angeles.
About Epilepsy
Without warning, seizures can happen to anyone at any age. When a person has two or more unprovoked seizures, they have epilepsy. Seizures do not all look the same and, according to the International League Against Epilepsy, there are currently more than 25 different recognized epilepsy syndromes affecting almost 3 million people in the U.S. and about 60 million people worldwide. Someone is diagnosed with epilepsy every three minutes and, this year alone, another 200,000 people in our country will be diagnosed. To date, there are no known cures.
About the Epilepsy Foundation of Greater Los Angeles
Established in 1957, the Epilepsy Foundation of Greater Los Angeles is the only nonprofit, 501(c)(3) charitable organization dedicated solely to serving the almost 160,000 people living with epilepsy throughout the 4-county region of Los Angeles, Orange, San Bernardino and Ventura. The Epilepsy Foundation of Greater Los Angeles is leading the fight to END EPILEPSY® and the burden of seizures. We focus on care, advocacy, research and education. http://www.END-EPILEPSY.org
###