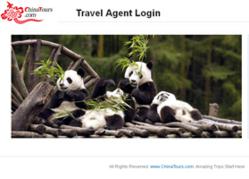 thank you for everything, you did a good job!!! I will choose you again!!! You made us love China every second.
(PRWEB) December 03, 2011
ChinaTours.com, a leading name in inbound China tour market based in Xian, China, which prides itself for excellence of service, is proposing a lucrative business opportunity to for small travel agents, especially independent and home based travel agents to expand their business in 2012.
It mainly offers private and customized tours to China for small group of couples, family or friends. The company came up with a new product in 2011 which thrives quickly for its highly competitive price and quality service. It guarantees one departure on every Tuesday, Friday and Sunday with even one person, which ends up to over 800 departures in 2012 in total. The maximum pax in every group is strictly limited to 22 to make sure its clients are taken good care of. Similar products on the market cost more and usually require minimum members and don't limit the maximum.
The product, named Join-in Tours, packages everything essential in China, including domestic air tickets (or trains if necessary), great hotels, ground tours and meals and has unsurpassed value for money. For example, the company uses hotels well rated by third parties and best Yangtze River cruise ship which is equipped with a private balcony in every cabin. Travel agents can repackage all 13 tours by offering international air tickets and start to sell tours to China in 2012 with ease.
ChinaTours.com will provide timely and professional expertise to help independent and home based travel agents to market these tours to their potential clients.
Please Sign up its B2B site at http://agent.chinatours.com and apply for membership to have more info on commission rates and recent promotions for agents.
ChinaTours.com is a licensed tour operator with offices in Beijing and Xi'an. We offer superior tours at economical prices! The company also runs Beijingtour.com and Shanghaitour.com which are under construction to offer best service at the two major destination cities in China.
###