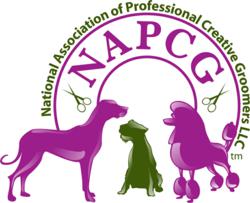 We've been wanting to use feathers for a long time in creative dog grooming," says Brown, "but we could not find a company that would verify their feather extensions were cruelty free. We were thrilled to death to find Air Feathers.
Childersburg, AL & Escondido, CA (PRWEB) December 01, 2011
Amy "Bullet" Brown, founder and president of The National Association of Professional Creative Groomers, and Airie McCready, founder and president of Air Feathers have a lot in common. When they decided to bring together dog groomers and feather extensions, a new art form was born.
"My highest priority has always been the health of both my own personal pets as well as the health of my clients," says Brown, "Our clients and our pets rely on us, as pet owners and professional groomers, to keep them safe. Because I myself have regretfully and unknowingly used harmful products, it is my goal to prevent other groomers from making the same mistake."
"Honestly, I never really thought much about roosters, chickens, and loved the look of feather hair extensions as well as the money when I started to sell rooster feathers last year," says McCready. When I found out where the feathers came from, I stopped selling them. Birds were being slaughtered just for their tail feathers, and that was not ok with me."
McCready's now famous Air Feathers product "Fairie Feathers" are the only truly cruelty free, no kill feather extensions on the market today. Her line for Salon Professionals has been extremely popular, and now led to a line for pets.
With their mission statements about safety of animals and people lining up so well, it was just a matter of time before Air Feathers did a line for dogs and groomers, so groomers can "unleash their creativity," as the NAPCG website so encourages.
"When dogs enter a creative grooming facility," says McCready, "if it is properly run and the groomers certified, there is nothing for any pet or owner to fear. So this is the perfect venue for Air Feathers to do a line just for groomers.
So the NAPCG line of Air Feathers was born, and is now available for groomers nationwide.
"We've been wanting to use feathers for a long time in creative dog grooming," says Brown, "but we could not find a company that would verify that their feathers are cruelty free, and did not even know that a no-kill line existed. We were thrilled to death to find out about Air Feathers."
Products include Glitter Queens ( the first dog applicable tinsel extensions), Royal Gems (Crystals with a loop backing that can be applied to strands of hair or fur), AirMazing Fakes Synthetic "Hair" Extensions and of course every feather that Air Feathers has in stock for the humans too!
Both Brown and McCready hope that all groomers, grooming salons and spa's will jump on the bandwagon with this product, and not use other items that are dangerous or cause pain to other animals.
"Many of the feathers on the market today," says McCready, "are from China, unsanitary sources or farms that kill the birds outright. Dogs especially may be sensitive to lead based dyes and parasites, so there is almost more of a risk putting product on them than the
humans."
"The reception so far has been amazing," says Heidi Borelli, a dog owner herself, "and when we put all of the products on my dogs, we got so many complements!"
Information about the NAPCG Air Feathers Line is available on Air Hair Extensions main website as well as on the NAPCG site.
http://thenapcg.com/
http://thenapcgpetgroomingaccessories.bigcartel.com/
###