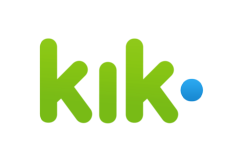 Waterloo, On (PRWEB) December 01, 2011
Today Kik Interactive, creator of the cross-platform mobile messaging application Kik Messenger, is announcing its global launch on Nokia Symbian devices.
Kik is taking aim at the international messaging market, adding Symbian to its portfolio, which already features apps for iOS, Android, BlackBerry and Windows Phone 7. Kik users can now message with friends on the top five mobile platforms in the world, with the fastest, most reliable and visually appealing app available.
Kik listened to Nokia's Symbian community who has asked for a more beautiful and faster messaging app. After a successful beta, the company is launching Kik Messenger for all Symbian users.
The free Kik Messenger app features:

Sent, delivered and received receipts as well as notifications indicating when someone in the conversation is typing a response
Cross-platform messaging between Symbian, iOS, Android, BlackBerry and Windows Phone 7 devices
Ability to send photos in a conversation
Option of scanning contacts for friends already on Kik
Group texting and ability to add friends to conversations with two clicks
"We are excited to bring the same super-fast and reliable text messaging experience to Nokia Symbian devices that has already made our app popular on iOS, Android, BlackBerry and Windows Phone 7," said Ted Livingston, CEO of Kik Interactive. "The new app provides users around the world a free alternative to SMS that makes texting feel more like a face-to-face conversation."
Download Kik Messenger in the Ovi store or visit: http://www.kik.com/symbian
To download the app for iOS, Android, Windows Phone 7 or BlackBerry please visit: http://m.kik.com
About Kik
Kik Interactive (http://www.kik.com) is all about sharing and connecting. Kik Messenger is a cross-platform application that allows real-time instant messaging for individuals and groups, as well as photo sharing. Kik was created by a team of students at the University of Waterloo and was launched in October 2010 to unprecedented success. Today millions of people around the world are enjoying Kik Messenger. Kik Interactive is based in Waterloo, Ontario.
###