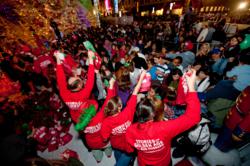 It only took 30 minutes for all 2,000 bags to be distributed
Hollywood, CA (PRWEB) December 01, 2011
Over one thousand children from a diverse cross section of Southern California charitable organizations were lined up along Hollywood Blvd near Winter Wonderland to watch the Christmas Parade and then receive their bag of holiday gifts at Winter Wonderland, located at the corner of McCadden and Hollywood, one block east of Highland. Winter Wonderland was initiated by L. Ron Hubbard in 1983 as a gift to Hollywood and the tradition continues to this day, three decades later.
Groups who participated included: Vista Del Mar orphanage, Youth Justice Coalition, Lula Washington Dance Theater, Troy's Project for Humanity, the Covenant House California, Ettie Lee orphanage and Casa Esperanza Group Home.
Organizers, anticipating record attendance from the many charitable organizations, stuffed 2,000 Hollywood Christmas Parade bags with toys and books. They also provided chairs, sandwiches, fruit and drinks for the children during the parade. The books were provided by Galaxy Press and consisted of Stories from the Golden Age, adventure, fantasy, mystery and science fiction stories written by bestselling author, L. Ron Hubbard.
It only took 30 minutes for all 2,000 bags to be distributed. Once other children in the parade audience saw what was happening, they too wanted their bag of Holiday treasure and were not disappointed.
After the gift distribution, the children were treated to performances on the Winter Wonderland stage that consisted of World Champion trick roper Rider Kiesner—after being rushed over to the stage once he completed performing in the 2 ½ mile parade route—a clown, a magician and carolers.
Stories from the Golden Age contains 153 stories all written by L. Ron Hubbard during the 1930s and 1940s—in genres ranging from Mystery to Thriller, Science Fiction and Fantasy to Adventure and Western, using his own and fifteen pen names—widely considered America's Golden Age of Fiction. The print version of each work includes the pulp fiction artwork that originally accompanied the story in magazine publication. In addition, each title offers a full-cast, unabridged audio theatrical presentation complete with theme music and sound effects.
For more information on the books and audiobooks go to http://www.goldenagestories.com.
For more information on Winter Wonderland and its hours of operation this holiday season and how to receive your free gift from Santa, go to http://www.LRonHubbardWinterWonderland.org or call 323-953-3292.
###