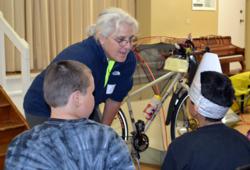 If you have a passion or a talent, no matter the circumstance, you could do something to make a difference. Just get out there and do it. Keep putting one foot in front of the other.
Los Angeles, CA (PRWEB) December 01, 2011
As a substitute teacher, Christine Farrugia, 56, always rode her bike to her school site. She has decided to pedal just a little farther to raise awareness of the needs of vulnerable children. On December 5 at 10:00 a.m., Farrugia will kick off her one-year ride around the world in front of Hillsides, a foster care children's charity in Pasadena. City of Pasadena Mayor Bill Bogaard and Hillsides CEO, Joseph M.Costa, will bid her good luck while students from Hillsides Education Center also cheer her on.
After her parents and brother died in a car accident, she felt alone and was left with a desire to do something to make a difference. She thought about how foster children or orphans must feel when they are no longer with family, which is how she decided to raise money for organizations that offer services to children in need.
"I believe with all my heart that ordinary people do extraordinary things every day," said Farrugia and she's about to show everyone how it's done.
Farrugia explains how sometimes you have to walk through a situation or ride through a storm to see what your human spirit is made of. Along her journey she will be giving presentations to students, sending an uplifting and encouraging message.
"If you have a passion or a talent, no matter the circumstance, you could do something to make a difference. Just get out there and do it. Keep putting one foot in front of the other," said Farrugia.
"Although this journey can appear daunting, Chris' positive energy, enthusiasm and commitment are infectious," said Costa. "We are excited to have been chosen as the charity in America to join Chris on her journey. This feat reminds me of the many journeys our vulnerable children and families are on, and together with our support we restore hope in their lives."
She did just that. After much investigation and many test rides, Farrugia brought home a "bouncing baby FARGO by SALSA. 29" tire to 29" tire of total riding bliss!" She is using front and rear ORTLIEB saddle bags, each with a small top rack, one for a small tent and the other for a sleeping bag and pad.
"Within one week of having the little darling I had my first spill," said Farrugia. "Everything was fine, no scratches. I'm just getting used to riding shoes that clip in, my first pair."
She is funding the world cycling tour with her inheritance and welcomes sponsors to host her campground stays, weather permitted, or hotel accommodations. Farrugia is also considering families willing to host her for a night in a safe place. Students can also get involved by sponsoring a school ride. The majority of the proceeds from the ride will raise funds for Hillsides and Good Shepherd Centre Orphanage in Zimbabwe, Africa.
On a recent visit to Hillsides, Farrugia explained the mission of Project Miracle Co, the charity she established to raise funds for other deserving children's charities. "I wanted to help the wheels that were already in motion."
"I feel this is the right place to do this—like I'm home," Farrugia said while touring the Pasadena charity.
She encourages other bicyclists or anyone wishing to ride for a few miles to join her along her route, cross country and overseas. To learn more about her route or how you can help Farrugia and donate, visit projectmiracleco.org. To contact Farrugia, call 720-215-6450 or e-mail at cfarrugia54(at)yahoo(dot)com.
# # #