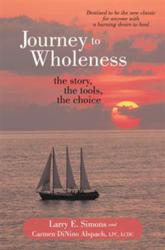 Austin, TX (PRWEB) December 02, 2011
The loss of a loved one can be an overwhelming. The loss of four however – devastating. In the new book Journey to Wholeness: The Story, The Tools, The Choice (published by WestBow Press) authors Larry E. Simons and Carmen DiNino Alspach, LPC, LCDC writes about the unimaginable sorrow and brokenness of Simons' surviving the suicidal deaths of his father, uncle, stepfather and finally his daughter. Readers will learn how he transformed his greatest sadness into his greatest purpose and meaning in life.
Journey to Wholeness is a guide that does not just talk about the stages of grief, but actually gives readers tools and strategies on how to put the pieces of their shattered life back together again. The book teaches how not to get stuck in grief and presents valuable tools for what could be the most important journey of their lives.
"Sudden deaths don't give us time to say goodbye," says Simons. "They leave unanswered questions. They shatter our lives. You can survive and even thrive after the life-numbing pain that follows the sudden death of your loved one."
The book is unique. Simons tells his firsthand account of events in his life. In the following chapters Alspach talks about the significant parts of Simons' narrative and clinically highlights precisely how Simons was able to work through and transcend the pain and challenges of his successful recovery. This valuable format gives the reader the opportunity to see both the pain Simons endured and then the clinical analysis of his burning desire and effort to work through that pain back into wholeness. This format enables the reader to be able to identify similarities of their own experiences with Simon's story and then apply the recovery strategies of Alspach's discussion to their own lives.
Journey to Wholeness offers a road map for life, focusing on hope and faith. Readers will learn how to rise above the worst tragedies of their lives and start to heal their broken heart.
About the Author
Larry Simons rose from humble beginnings in Texas to become a highly successful and respected salesman in the corporate world. Beloved by family, friends, and colleagues, Simons is known for his eternal optimism, personal integrity, positive attitude and unwavering faith.
Co-author, Carmen DiNino Alspach, is a Johns Hopkins University–trained therapist who assisted Larry Simons in his grief recovery. She is a licensed professional counselor and licensed chemical dependency counselor specializing in recovery from profound grief, addictions and trauma.
WestBow Press is a strategic self-publishing alliance of Thomas Nelson, the world's premier Christian publisher, and Author Solutions, Inc. (ASI)—the world leader in the fastest-growing segment of publishing. Through this partnership, authors benefit from the rich publishing heritage of Thomas Nelson and the speed-to-market advantages of the ASI self-publishing model. Titles published through WestBow Press will be evaluated for sales potential and considered for publication under the Thomas Nelson imprint. For more information, or to start publishing today, visit westbowpress.com or call 866-928-1240.
###