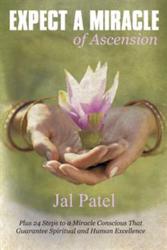 Dar-Es-Salaam, East Africa (PRWEB) December 02, 2011
French philosopher Pierre Teilhard de Chardin once said, "We are not human beings having a spiritual experience; we are spiritual beings having a human experience." With her new book "Expect a Miracle of Ascension: Plus 24 Steps to a Miracle Conscious That Guarantee Spiritual and Human Excellence" (published by Balboa Press), Jal Patel nudges readers from the dark and into light.
One reviewer said about "Expect a Miracle of Ascension":
"This is a book that bulges at its seams with pure, spellbinding spiritual and mystical insight that simply makes it 'unputdownable.'"
"When you understand how to raise your vibrations, you automatically invite miracles into your life," says Jal. "Expect a Miracle of Ascension" aims to teach readers the steps and actions to take that Jal believes will raise their vibrations higher and realize that they have uselessly feared and wasted their lives in things that they had the power to change. It tells of the predictions and prophecies of a new age, an age that we are now transiting into.
"It is not the end of the world, but a new beginning. You should focus on the New Age. By allowing yourself to dwell in fearful thoughts and be sucked in by a pool of negative media, you stand to be deprived of the beauty of the enfolding natural phenomenon and amazing orchestration of events that work toward the enfoldment of this divine cosmic plan." – Jal Patel
"As our world system seems to be collapsing, and is in tumult, readers need to know what is happening and how to get a grip on everything," says Jal. "First and foremost, they need to realize that these are not random events of an angry God or 'just the way the world is coming to' sort of scenario, but an enfolding of a very positive and powerful cosmic phenomenon. They must learn to trust the Universe, must learn to re-connect to their higher selves and when done genuinely, they will find that they are no longer fearful of change, no more doubting of their own destinies, and no longer desperate for materialistic accomplishments. Everything enfolds in a harmonious way, when they learn to synchronize with higher vibrations."
In "Expect a Miracle of Ascension," readers will learn about various universal prophecies that have been made throughout history and why they make sense, with the ultimate goal to realize that something is in fact happening. It is a wake-up call to many readers and is a very powerful message to the world, in a time when, according to Jal, needs it the most.
About the Author
Jal Patel, is a both a spiritual guru and a spiritual adept, a Huna practitioner and Ascension Reiki master. She takes her mission of waking the world up for what she believes, is to be one of the greatest spiritual awakening the world will ever know, very seriously. She lives with her two daughters and husband in East Africa.
Balboa Press, a division Hay House, Inc. – a leading provider in publishing products that specialize in self-help and the mind, body, and spirit genres. Through an alliance with indie book publishing leader Author Solutions, Inc., authors benefit from the leadership of Hay House Publishing and the speed-to-market advantages the self-publishing model. For more information, visit balboapress.com. To start publishing your book with Balboa Press, call 877-407-4847 today. For the latest, follow @balboapress on Twitter.
###