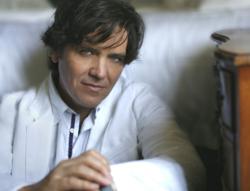 Los Angeles, CA (PRWEB) December 01, 2011
Popular television star, filmmaker, entertainer and musician Michael Damian will be joined by an all-star cast of artists and musicians and for "The Michael Damian Family and Friends Christmas Special" this Saturday December 3rd, Studio City Sound, the producer of the event, announced today.
The Michael Damian Family and Friends Christmas Special will be broadcast on Saturday December 3rd @ 3PM PST on Studio City Sound Live, the innovative streaming music and entertainment network at http://www.ustream.tv/channel/studio-city-sound-live
The broadcast will feature performances of original and classic Christmas music by Michael Damian, and include special guest stars Chuck Negron Former lead vocalist of Three Dog Night, Brian O'Neal and The Busboys, international Blues artist Mighty Mo Rodgers, LA Master Chorale singers Stephen Grimm and Kristen Toedtman and many of Hollywood's top studio musicians including world-renown guitarist Tim Pierce (Michael Jackson, Bruce Springsteen, Madonna, Celine Dion), trumpeter Steve Medeo (Eric Clapton, John Lennon, Stevie Wonder), trombonist Nick Lane (Chicago, Carole King, Fall Out Boy), and many others. Damian will also be joined by his mother and other members of his musically-talented family including sisters, brothers, nephews and nieces.
"There's no better time to celebrate friends and family than the Holidays," said Michael Damian. "This concert and celebration party give us a chance to share a little spirit of the season with our friends, fans and families and have fun with classic Christmas music, so it's going to be great to watch and perform. "
Michael Damian will also share exclusive sneak-peak previews of his new film "A Princess for Christmas", which he directed and is premiering Saturday, December 3 on the Hallmark Channel 8 PM PST, with an encore performance at 10 PM PST.
Michael Damian has enjoyed a prolific acting career and is widely known for his eighteen-year run on the daytime drama, "The Young and the Restless" as well as his starring role as "Joseph" in the Broadway production of "Joseph and the Amazing Technicolor Dreamcoat" for which he earned a Grammy nomination. In addition to his extensive acting and Broadway career, Damian has released five albums and has had eight Top 40 hits including the #1 single "Rock On", which earned him gold records in the US, Canada and Japan. He won a BMI Songwriting Award for his hit single "Was It Nothing At All" and two of his songs are featured on the soundtrack of the feature film "Flicka 2." An accomplished director and screenwriter, he directed "Flicka 2" and wrote and directed "Marley and Me: The Terrible 2s" for 20th Century Fox.
About Studio City Sound
Founded in 2001 by Grammy Award Winning sound mixer, music producer and musician Tom Weir, Studio City Sound is a leading music and sound recording and video production resource serving the television, feature film and music industries. Located in Studio City, California, Studio City Sound's clients include Rod Stewart, No Doubt, A Perfect Circle and Chris Cornell among others. Studio City Sound Live is the streaming online broadcast network project launched in June 2011 featuring 24-hour online live performances and recording sessions. For information visit: http://www.studiocitysound.com.
###