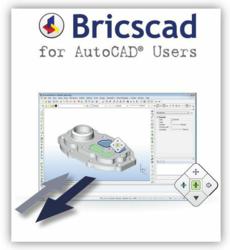 The e-book gives practical advice on how to run a design office with a combination of AutoCAD and Bricscad and how huge savings can be reached.
Ghent, Belgium (PRWEB) December 01, 2011
Bricsys® announces the updated e-book "Bricscad V12 for AutoCAD Users" written by Ralph Grabowski. This free e-book is for CAD users wishing to understand the differences and similarities with Bricscad. It is ideal for offices looking to save on IT expenses by adding lower-cost Bricscad seats.
The 192-page e-book is available in Adobe Acrobat (PDF) format, and covers these topics:

Advantages to Bricscad
What's missing from Bricscad
Comparison of user interfaces
Detailed comparison of drawing compatibility
New! Detailed comparison of object properties
Overview of how to customize and program with Bricscad
New! Working in a dual-CAD office
New! Issues specific to Linux
AutoCAD-Bricscad dictionary
The author of this e-book has dedicated a special chapter on what he calls "Operating the Dual CAD Design Office". It gives practical advice on how to run a design office with a combination of AutoCAD and Bricscad and how huge savings can be reached.
The updated book features dozens of tips and illustrations in full color. Items unique to Linux versions are shown in gray. The book also includes appendices of reference material such as AutoCAD-Bricscad command cross reference and other useful cross references.
Ralph Grabowski is editor at upFront.eZine Publishing, Ltd. Ralph is the author of over 100 books and several hundred magazine articles about computer-aided design.
The e-book is available free from the Bricsys Web site.
http://www.bricsys.com/en_INTL/bricscad/documentation.jsp
Other e-books by Ralph Grabowski ("Customizing Bricscad", "Learn Bricscad in a day") are also available in our store.
http://www.bricsys.com/estore/estore.jsp?site=1
About Bricsys
Through a network of 70 offices on four continents, Bricsys is a global provider of engineering software. Its product portfolio consists of Bricscad design software, Vondle extended SaaS platform, and modeling and constraint solving components technology.
Bricscad is the powerful alternative CAD platform that enables .dwg-based applications to serve the growing markets of AEC, mechanical design, GIS, and civil engineering.
Bricsys products are available in 17 languages, with more languages in development. Every month, the company transparently reports to its customers the status and development of its software products. Wherever they are around the globe and around the clock, customers can communicate support requests directly to the Bricsys support team.
Bricsys is a founding member of the Open Design Alliance and thereby contributes to interoperability in the engineering industry.
For more information about Bricsys, contact us through http://www.bricsys.com.
###