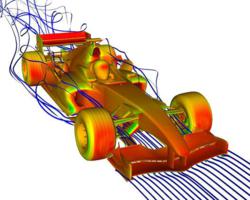 We are extremely pleased to expand our operations in North America: this represents a fundamental step for KARALIT, a young and fast growing company", Marco Mulas, Founder and CTO of KARALIT
Pula, Italy (PRWEB) December 02, 2011
KARALIT, the revolutionary computational fluid dynamic (CFD) software provider opens its local Sales Office in the USA.
KARALIT, headquartered in Italy, brings revolution in the CFD world market by:

offering a CFD simulation software that does not require any pre-meshing thus saving up to 80% of the typical user-required simulation time;
delivering a software extremely easy to use, lowering engineering specific knowledge requirements;
proposing an innovative pricing policy, with no multi-processor limitation, no add-ons policy and no additional costs.
The new Sales Office in USA, located in Cary, NC will enable KARALIT to better provide local sales and technical support to all North America customers, supporting a large, fast growing, key market.
"We are extremely pleased to expand our operations in North America: this represents a fundamental step for KARALIT, a young and fast growing company", Marco Mulas, Founder and CTO of KARALIT says. "It shows our commitment to the North America market that is, without any doubts, one of the most important markets for CFD and KARALIT wants to offer a direct technical and sales support to its customers".
Alberto "Al" Griffa, a veteran in the software industry, will lead the North American operations. Griffa joins KARALIT with more than 20 years of experience in the design, engineering and manufacturing software market, having worked in company such as Tecnomatix and most recently with Geomagic where he was leading the American Sales operations.
"I am extremely excited to join KARALIT and the revolution that brings into the CFD market" says Griffa. "I look forward to growing the presence of KARALIT in North America, and I am fully committed to provide our customers with the best and unparalleled experience".
KARALIT CFD software - 2D version - has been available online for free download since June of this year. The 3D commercial version of the software will be available for customers worldwide from January 2012 through direct Sale Offices in the USA and Italy.
###